The best of Basque beaches
The best of Basque beaches
Basque Country is a dreamy landscape where craggy mountains tower over crashing Atlantic waves. In and among the stunning coastal coves, you'll discover beaches worthy of sunbathing, surfing and snorkelling. Discover the best beaches near Biarritz and more on your next short break.
Book now and take advantage of our special offer to enjoy a beautiful stay at a very low price!
The beautiful beaches of Biarritz and Bayonne
The French Basque region along the Bay of Biscay boasts breathtaking beaches from Biarritz to Bayonne. Biarritz is a glittering, surf-friendly city, home to stunning Belle Epoque architecture. The best beaches in Biarritz include the main Grande Plage. More of the best beaches around Biarritz include Miramar and Milady, where it's quieter for sunbathing and bodyboarding. Set up base at the dreamy Hotel Laminak, a calming, pastel-hued hotel with soothing Basque interiors. You can enjoy the hotel's pretty heated pool and dine in the tranquil Basque countryside.
In riverfront Bayonne, the French capital of the Basque Country, you'll discover colourful avenues with cobblestone paths. Its scenic streets lead through medieval cloisters to world-famous museums. The best beaches around Bayonne include the scenic La Barre, where the winding Adour River meets the Atlantic Ocean. Just south, the sandy La Madrague is favoured among surfers. The best Bayonne France beach hotel is Hotel Le Lodge, a charming Basque boutique surrounded by pine forests. Enjoy cooling dips in the outdoor pool or head to Ondres Beach for its crystal-blue waters.
Scenic Saint-Jean-de-Luz and the Spanish border
Saint-Jean-de-Luz is a classic Basque seaside destination. Boasting plenty of red and blue-hued waterfront villas, the sandy beaches sparkle in the sun as the fishing harbour undulates with bobbing sailboats. Its sheltered central beach is protected from the wind for family-friendly paddling or kayaking. Nearby Ciboure Beach provides a quieter spot with a small-town spirit.
Closer to the Spanish border, Hendaye boasts one of the most beautiful beaches in Basque Country, a 1.8-mile beach and a hotspot for surfing of all abilities. Sheltered by a bay, it's a delight to swim or walk along coastal trails backdropped by the stately Château d'Abbadie. The well-placed Hotel Iribarnia provides good access to these sandy shores complete with a spa. Nestled in the rustic village of Lantz, this is the Basque of the Pyrenees with snaking foothills and rolling hills. The hotel exudes country charm through its exposed stone interiors and delightful riverside gardens.
Discover the best beaches in Basque Country booking your summer stay with The Originals Hotels. Its perfect sandy shores and windswept coastal paths make it an impressive base to relax or hit the waves with first-rate surfing schools.
2
HOTELS SELECTED FOR YOU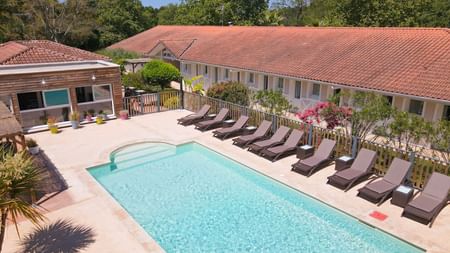 Ondres , France
The Originals City,
Hotel Le Lodge, Bayonne North 1180, avenue du 11 Novembre 1918 RN 10 Le Cassiet, 40440 Ondres
See on map
WiFi

24h access by automatic teller

Free hotel car park

Pets admitted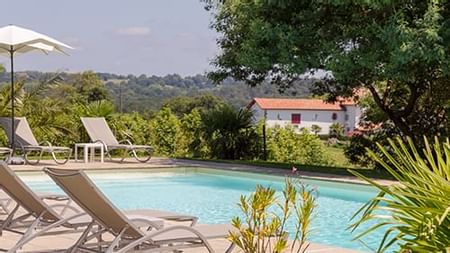 Arbonne , France
Hotel Laminak,
The Originals Relais

(Relais du Silence)

3, route de Saint-Pée, 64210 Arbonne See on map
WiFi

Bycicle premises

Air-conditioned room

Free hotel car park
Subscribe to our newsletter to receive our latest offers
SUBSCRIBE