Book a magical coastal break with an escapade in Ouessant
Book a magical coastal break with an escapade in Ouessant
The idyllic and remote Ouessant is the ultimate downtime experience. It is located off Brittany's coast and is a bucolic isle perfect for walking and cycling. Book a hotel spa in Ouessant as the perfect couple's getaway at Hotel Sport Ouessant & Spa.
Unlock our exclusive offers and get the best deal booking at The Originals Hotels website.
Ouessant: A restful retreat to relax and recuperate
The Île d'Ouessant is a tranquil island escape just 8 by 3 km in size. Its rich maritime past is traced through its landscape, the rugged rocks of which once proved perilous for navigation. Today, ships are beckoned to safety by the impressive Creac'h Lighthouse, one of the world's most powerful beacons and home to the must-visit Musée des Phares et des Balises. Four other lighthouses are dotted in and around the isle, including the historic 17th-century Stiff Lighthouse. A cosy museum, Écomusée d'Ouessant, offers insight into traditional island life.
Ouessant is an oasis for quiet cycling holidays, the predominant way to navigate this island. Small, sheltered beaches like Plage de Corz and Plage du Prat provide ideal picnicking and bathing hotspots away from the crowds. Pilgrim paths also span the island in the footsteps of St Paul. Follow the walking trails to discover legendary markings of the devil at the cross of St Paul. You can also trace legends with a sea kayak in Ouessant through the peaceful bays of Lampaul and Calgrac'h.
Book the best hotels in Ouessant
At Hotel Sport Ouessant & Spa, an eco-philosophy pervades through elegant, peaceful interiors. The hotel provides an exceptional sea-view spa in a converted cottage with delightful, exposed stone. The wellness facilities are matched by a sumptuous pool and outdoor hot tubs, all flanked by the sight and sound of waves lapping the shore. Bicycle rentals and fitness facilities complete the experience with the ability to pick up a set of wheels. Exercise and explore to your heart's content and return to a tranquil library.
Enjoy a restful and romantic weekend away from modern worries with a stay at Hotel Sport Ouessant & Spa. The ever-changing, seasonal menu at the scenic, ocean-view restaurant offers the best of the island and Breton cuisine, from freshly caught Ouessant fish to local market garden produce. Discover a wondrous landscape in a pampered setting and book Hotel Sport Ouessant & Spa as your next weekend break in France.
1
HOTELS SELECTED FOR YOU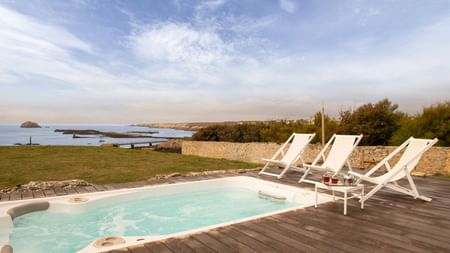 Ouessant , France
Hôtel Sport & Spa, Ile d'Ouessant,
The Originals Collection Lieu dit Goubars, 29242 Ouessant
See on map
Fitness room

Bycicle premises

Pets admitted

Restaurant
Subscribe to our newsletter to receive our latest offers
SUBSCRIBE