Castles around Île-de-France you must visit
Castles around Île-de-France you must visit
Think you know all the castles near Paris? Think again! The Originals Hotels presents our guide to the best castles in Île-de-France. See a bit more of the capital region with these breathtaking châteaux. Unlock our Smooth Rate and stay at The Originals Hotels at the best price!
Château de Versailles
Without a doubt, this is the most famous castle near Paris. The Palace of Versailles has spectacular landscaped gardens which are ideal for a stroll in good weather. Inside, just a fraction of the 2,300 rooms are open to the public - but that's enough for you to see over 60,000 paintings, sculptures, and more. The collection is dedicated to French history and celebrates many of the country's greatest artists.
Stay at The Originals Boutique, Hotel Maison de l'Abbaye. This spiritual location still has a working chapel, and the gentle sound of morning hymn practice is the perfect alarm clock.
Château de Fontainebleau
Another of the best Île-de-France tourist attractions, this castle is a must for history buffs. The table where Napoleon abdicated in 1814 is still on display, and there are plenty of other well-preserved historical gems. The eclectic collection inside features artefacts from the time of Louis XIV, as well as the Napoleonic era.
The town of Fontainebleau is worth exploring, too. Make The Originals Boutique, Hotel Victoria, Fontainebleau your base, and don't miss the chance to discover the enchanting forest, where magic seems to come to life.
Château de Vaux-le-Vicomte, Maincy
This is one of the best places to visit in Île-de-France if you want a day trip from Paris. Just 55 km from the capital, it has spectacular gardens with a waterfall and caves. Inside the building, the highlight is probably the 8m-tall chandelier, which must be seen to be believed.
Travelling with kids? Visit in the Christmas season to see the castle transformed into a living fairytale, with lights everywhere, Christmas trees, and more.
Château de Courances, Essonne
This castle in île-de-France is best known for its Renaissance water garden, which covers 75 hectares. There are seventeen water features, including a mirror pond which reflects the castle itself; there's also a Japanese garden housing exotic plants. Inside the building, you'll find antique furniture and intricate tapestries.

End Of Article
1
HOTELS SELECTED FOR YOU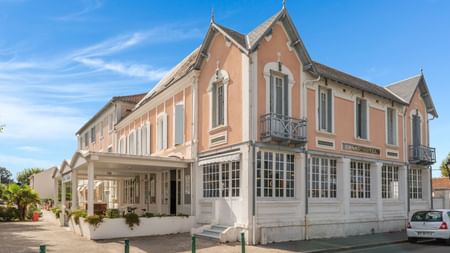 Châtelaillon-Plage , France
The Originals Boutique,
Hotel Victoria, Châtelaillon-Plage 13 Avenue du Général Leclerc, 17340 Châtelaillon-Plage
See on map
WiFi

Bycicle premises

Free hotel car park

Bar
Subscribe to our newsletter to receive our latest offers
SUBSCRIBE