Celebrate the most beautiful day of your life at Chateau de Tauzies
Celebrate the most beautiful day of your life at Chateau de Tauzies
Finding the right wedding venue is crucial for celebrating the most beautiful day of your life. What could be more romantic and memorable than a wedding set in the French countryside? Originals Relais, Chateau de Tauzies is the perfect wedding venue for your big day.
We invite you to check out our special offers to visit this gorgeous hotel in Gaillac!
Situated in Gaillac, Tarn, Chateau de Tauzies offers an enchanting setting along with all the amenities to make your wedding everything that you have always dreamt of. This includes luxury accommodation at the chateau's majestic Hotel Gaillac. Read on to find out more about why we recommend this beautiful location that is one of the best chateau wedding venues in France.
The perfect setting to celebrate your wedding day
Several key factors put French countryside wedding venues among the most sought-after for those looking for a truly magical ceremony. When you book your big day at Chateau de Tauzies, you have access to the full estate. This includes beautiful indoor and outdoor spaces that add to the aesthetics of the occasion.
The Chai Room at Chateau de Tauzies can accommodate up to 176 seated guests for your big wedding celebration. From the covered terrace, you will enjoy incredible views of the property's historic vineyards. This stunning vineyard is another point of note. It is the perfect setting if you are looking for the best vineyard wedding venues in France.

Exclusive accommodation for you and your wedding party

Incredible facilities are a key part of what makes Chateau de Tauzies a leading wedding venue in France. Luxury accommodation for you and your wedding guests is key when searching for the best French chateau wedding venues.
Chateau de Tauzies, offers everything you could imagine in terms of elegance, sophistication, luxury and comfort. Options at this exclusive accommodation include suites and terrace rooms that are sure to delight you and your guests.
It is also important to note that your wellness and that of your guests are always a priority. Chateau de Tauzies is a signatory of the Originals Health Commitment Charter.
Book The Originals Relais, Chateau de Tauzies today for a wedding celebration that make the most beautiful day of your life. We are excited for you to see for yourself why the property is considered to be among the best wedding venues in France.
1
HOTELS SELECTED FOR YOU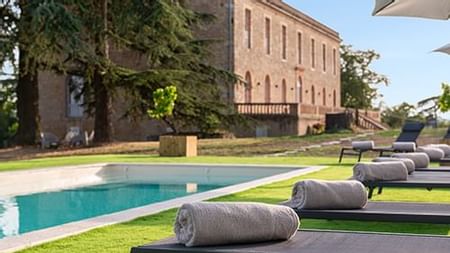 Gaillac , France
Château de Tauziès,
The Originals Relais 1850 Route de Cordes, 81600 Gaillac
See on map
WiFi

Free hotel car park

Outdoor swimming-pool

Co-working
Subscribe to our newsletter to receive our latest offers
SUBSCRIBE