Experience a perfect holiday along the Canal du Midi
Experience a perfect holiday along the Canal du Midi
Stretching for 240km along the south of France, the Canal du Midi is a remarkable feat of engineering and a Unesco World Heritage site. Today, it's a popular destination for holidays. Keen athletes might follow the Canal du Midi by bike, while those who prefer to relax can enjoy chilled-out barge cruises. Whatever you choose, follow The Originals Hotels' guide to the best sites along this iconic waterway. Unlock our Smooth Rate and stay at The Originals Hotels at the best price!
The hidden gems of Narbonne
Many Canal du Midi river cruises start in Narbonne, a little-known town with a surprising amount to offer. Fifteen kilometres from the coast, it has luscious gardens, a stunning cathedral, and a beautiful, historic town square. The Palais Neuf art museum is a must-see, and has an old tower that offers glorious views across the town. Roman ruins and medieval cobbled streets add to Narbonne's charm.
The Originals Access, Hôtel Le Puech, Narbonne is just 3km from the centre of town. Comfortable, modern rooms and a warm welcome await you here, making it the perfect spot to sleep before beginning your Canal du Midi adventure.
Engineering marvels in Béziers
Béziers is a major port of call on most Canal du Midi holidays. The Nine Locks of Fonseranes demand a visit. You'll have to walk a bit to see this incredible piece of engineering, but it's worth the effort - especially when you watch canal boats manoeuvre through. The cathedral, Saint-Nazaire de Béziers, should also be visited and has spectacular views of the town.
Stay in the relaxing surrounds of The Originals City, Hotel Le Pavillon, Béziers. With a swimming pool and a tennis court, this hotel has plenty to keep you occupied!
Outdoor fun in Capestang
One of the most charming villages in the Languedoc, Capestang is ideal for anyone who loves the great outdoors. Stop here on your canal adventure to stretch your legs. Bike paths, horse riding and walking tours are all popular activities here, giving you the chance to explore rolling fields and majestic forests. In the centre, you'll find a traditional village with excellent food and wine - just what you need after a day of exploring!
The castles of Carcassonne
While there are many interesting towns on the Canal du Midi, few compare with the spectacular Carcassonne. The ancient fortified town, with its 52 towers, is fascinating to behold. You can take a 3-kilometre walk around the ramparts and, when finished, explore the old town. Disney-like cobbled streets, half-timbered houses, and storybook stone walls clad with ivy await you. Don't forget your camera - you're going to need it!
One of the best Canal du Midi hotels is The Originals City, Hotel Pont Rouge, Carcassonne. The hotel itself is thoroughly modern, but it's just ten minutes from the medieval town. A decadent continental breakfast with local produce awaits you in the morning.
End Of Article
1
HOTELS SELECTED FOR YOU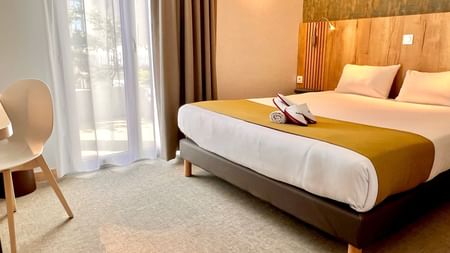 Narbonne , France
The Originals City,
Hotel Le Puech, Narbonne

(Inter-Hotel)

9 Avenue du Quatourze Forum Sud, 11100 Narbonne See on map
WiFi

Air-conditioned room

Free hotel car park

Pets admitted
Subscribe to our newsletter to receive our latest offers
SUBSCRIBE