Stay like a star: The best hotels for Cannes Film Festival
Stay like a star: The best hotels for Cannes Film Festival
Glitzy and romantic, Cannes bursts with more style than usual during its eponymous film festival in May. Its sun-kissed boulevards and yacht-lined harbours are graced by film legends. Enjoy this fascinating celebrity playground with a stay in an Originals Hotel. Discover what you'll find here with our Cannes Film Festival accommodation guide.
Check out our special offers and treat yourself with a short break to Côté d´Azur!
What to do at Cannes Film Festival
Cannes' natural beauty astounds year-round, but Cannes' famed boulevard, La Croisette, brims with life during May's festivities. Catch a movie when you're not out star-spotting. While you need a badge to catch the official selection, you can still catch celluloid sensations. Watch an outdoor screening at the iconic Mace Beach, among three other free-to-show screens.
For stays in Cannes itself, the centrally-placed Hotel des Orangers boasts various on-site activities. Rest away from the bustle with a dip in the sun-soaked pool. You can listen to the movie chatter at the lounge bar before heading out to catch a screening.
Things to do near your Cannes Film Festival Hotel
Explore Cannes' dazzling cultural centre along Le Suquet during the festival. Sparkling delights include La Malmaison, the town's grandest hotel-now-gallery. Follow Cannes' cobblestone streets to the medieval Musée de la Castre. Other highlights near central Cannes Film Festival accommodation include the delectable Marché Forville, a foodie's dream often visited by stars of the silver screen.
Nestled right on the coast, there's no shortage of beaches near Cannes. Beach-oriented visitors can't miss a stay at Hotel Les Strélitzias. Just east of Cannes in sleepy Antibes, it offers beach access, relaxing on-site gyms and terraced dining and is one of the top hotels in the south of France with a pool.
Where to stay for Cannes Film Festival
You don't have to stay in the centre of Cannes to experience the festival. Take a trip into town from a retreat in the South of France. Our Hotel Golf Château de la Bégude is a short 30-minute drive from Cannes and is surrounded by spectacular nature. With golf, gardens and swimming on your doorstep, it serves up laidback Provencal style away from the festival frenzy.
From central Cannes hotels to secluded rural chateaux, choose from the finest stays on the French Riviera this May. Book an Original Hotel to explore the town's designer bars and Porsche-laden high streets during the world's most prestigious cultural event.
3
HOTELS SELECTED FOR YOU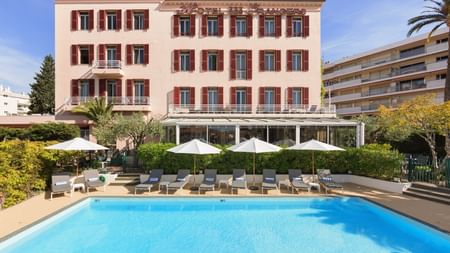 Cannes , France
The Originals Boutique,
Hotel des Orangers, Cannes

(Inter-Hotel)

1, rue des Orangers, 6400 Cannes See on map
WiFi

Air-conditioned room

Pets admitted

Bar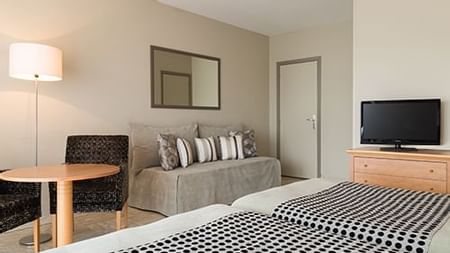 Antibes , France
The Originals Residence,
Les Strélitzias, Antibes 2 Rue Pierre Commanay, 6160 Antibes
See on map
WiFi

Fitness room

Air-conditioned room

Pets admitted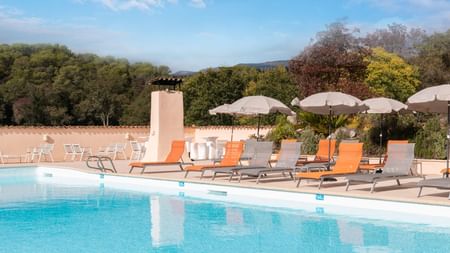 Opio , France
Hôtel Golf Château de la Bégude ,
The Originals Collection Route de Roquefort, 6650 Opio
See on map
WiFi

24h access by automatic teller

Bycicle premises

Air-conditioned room
Subscribe to our newsletter to receive our latest offers
SUBSCRIBE