Hotel Napoléon
The Originals City
(Inter-Hotel)
Service often makes all the difference, says Sébastien. In the perfect spot near Puy-du-Fou and Les Sables-d'Olonne and just 25 minutes from the Atlantic beaches, his hotel, The Originals City, Hotel Napoléon, La Roche-sur-Yon, is practical first and foremost. This three-star establishment is all about service and comfort. "The quality of the hospitality and our location at the heart of La Roche-sur-Yon are other major drawcards," adds Sébastien. Just 300 metres from the station, this elegant 29-room hotel is great for making the most of your holidays in the Vendée prefecture within the Loire region, a special place for Napoleon I. Guests find this hotel particularly warm and cosy.
Meet the team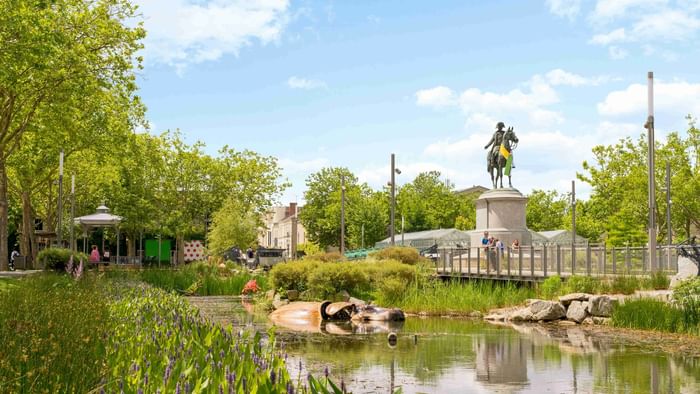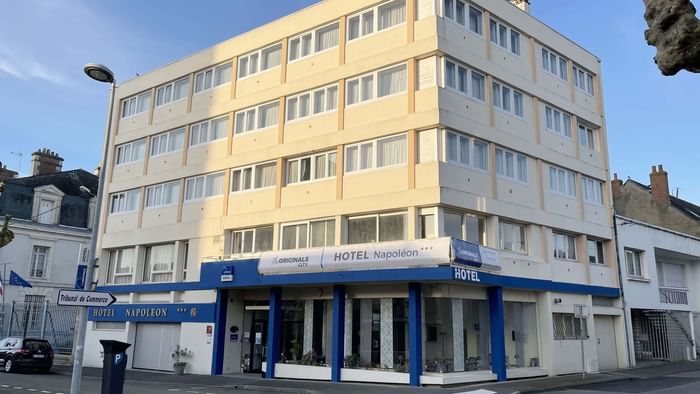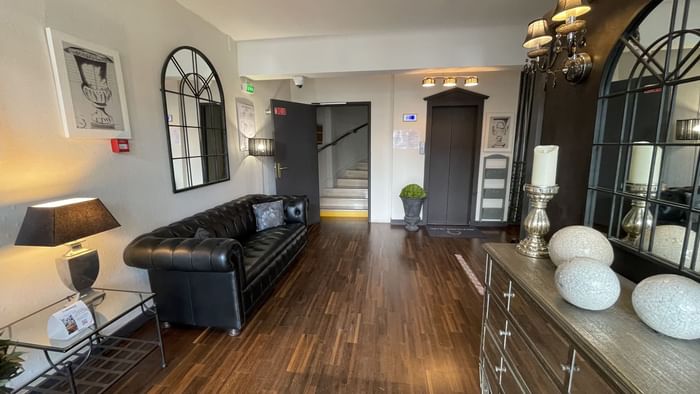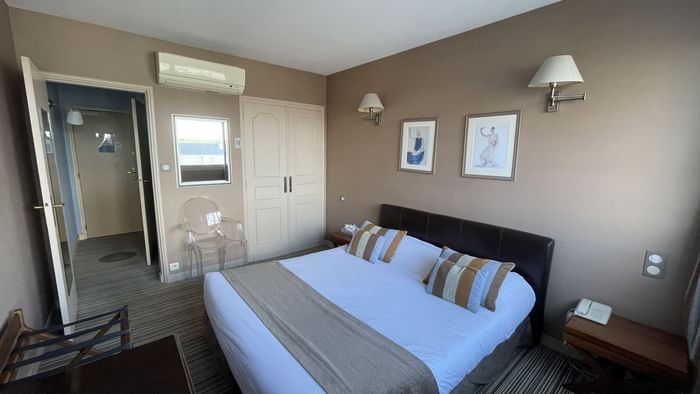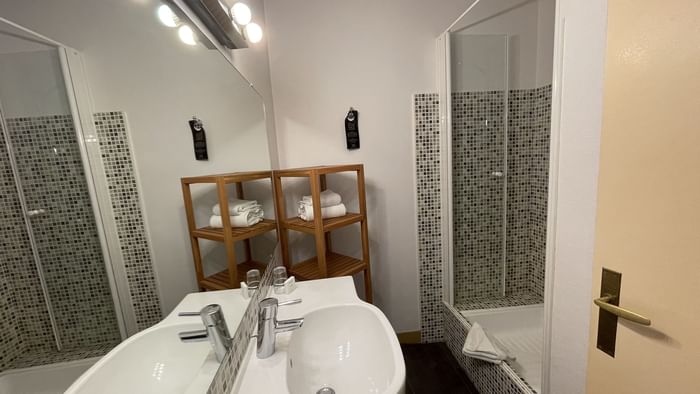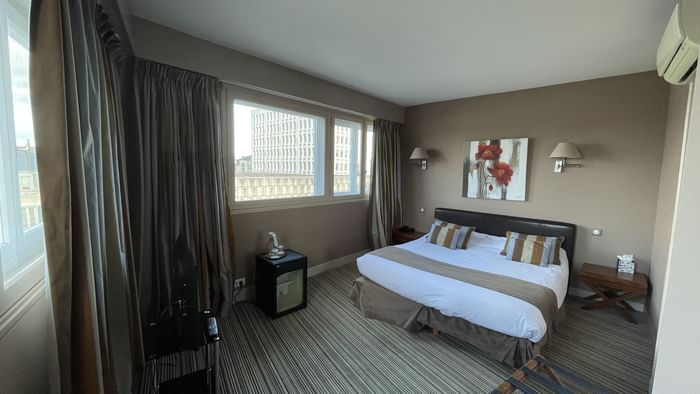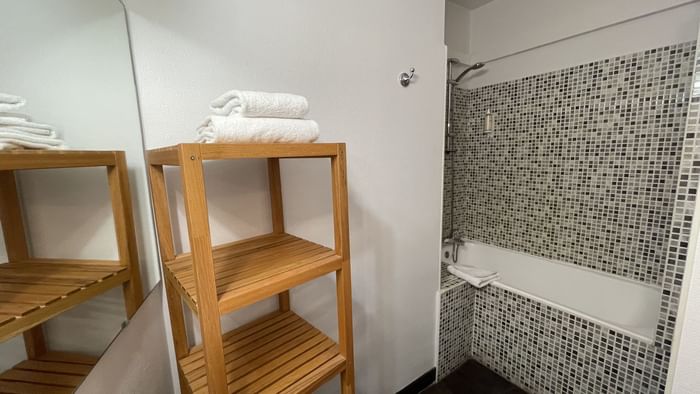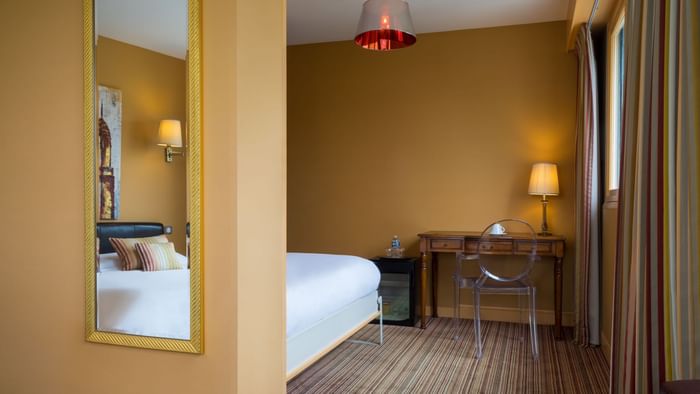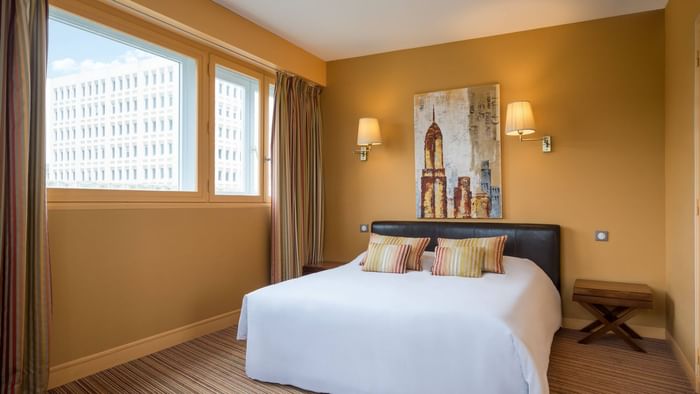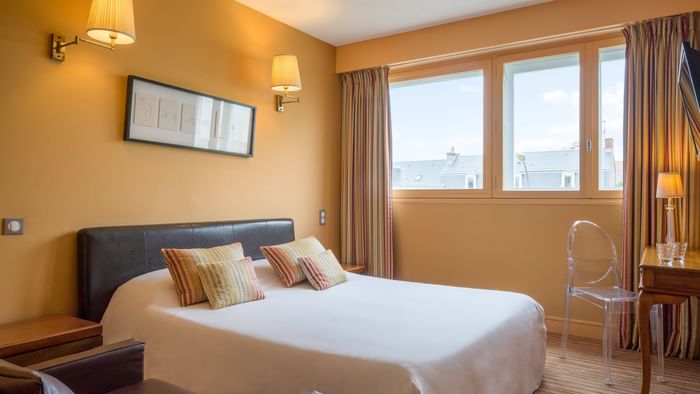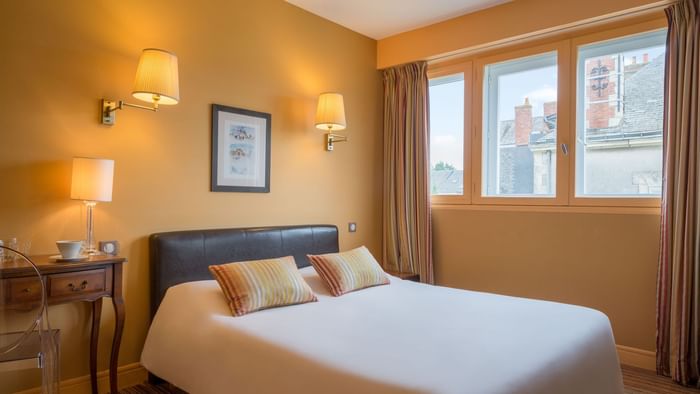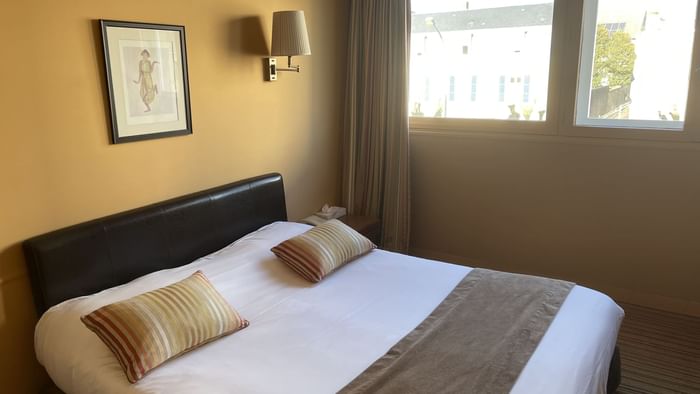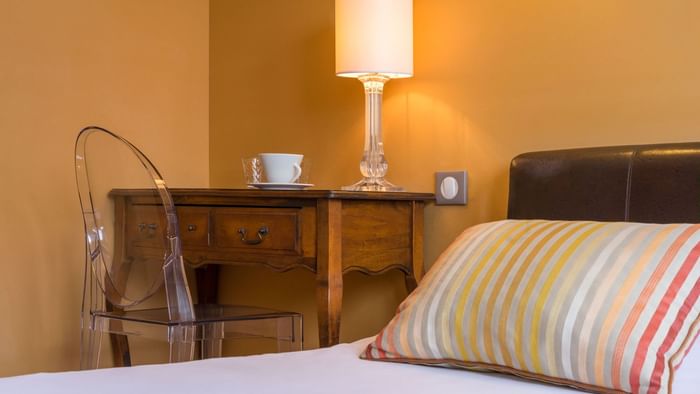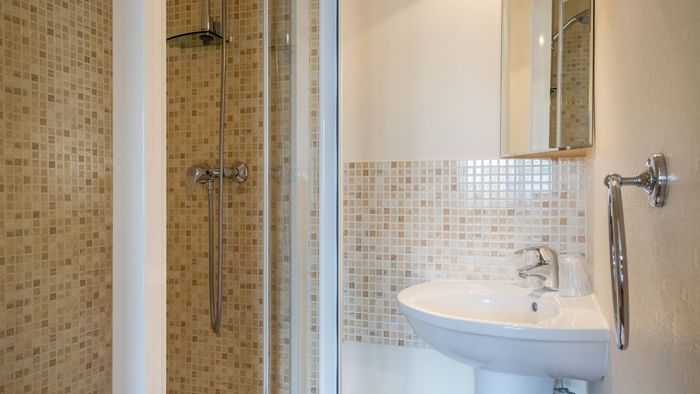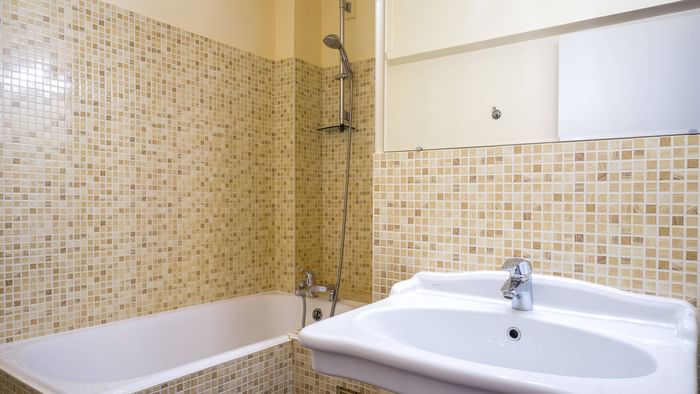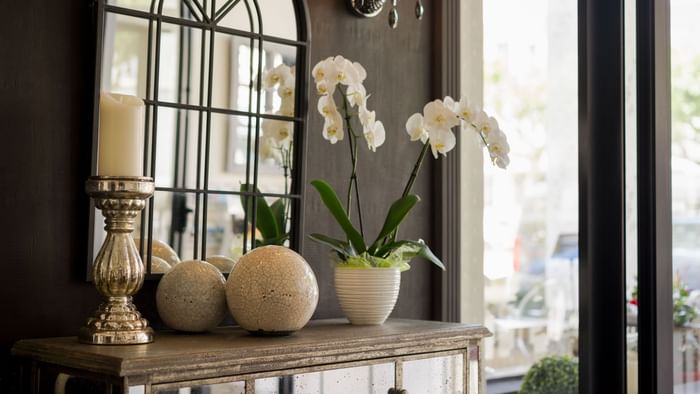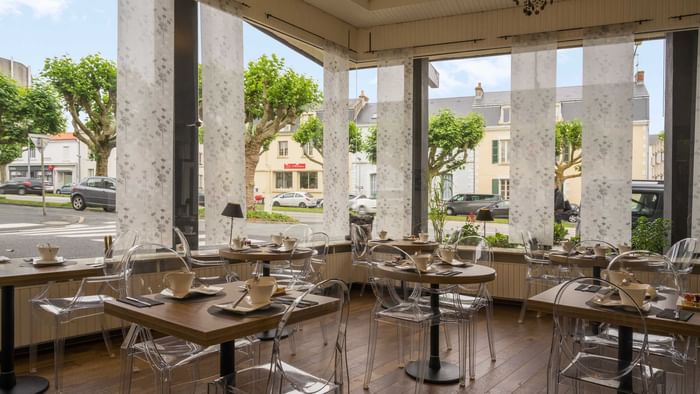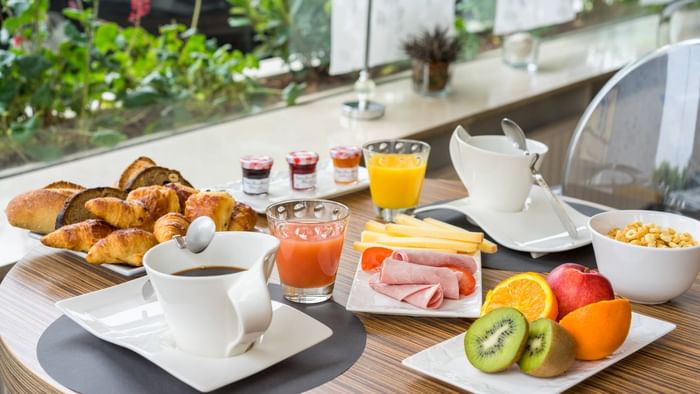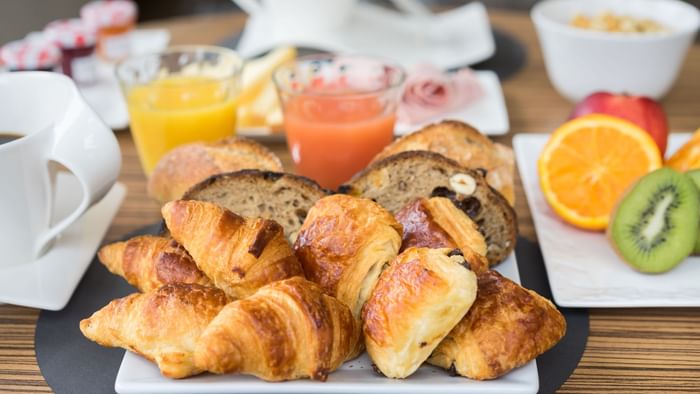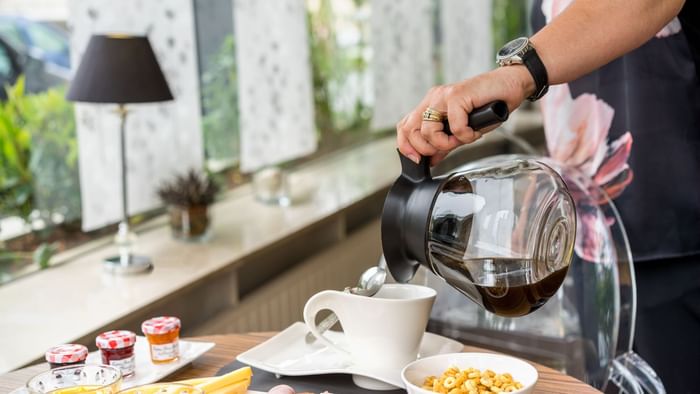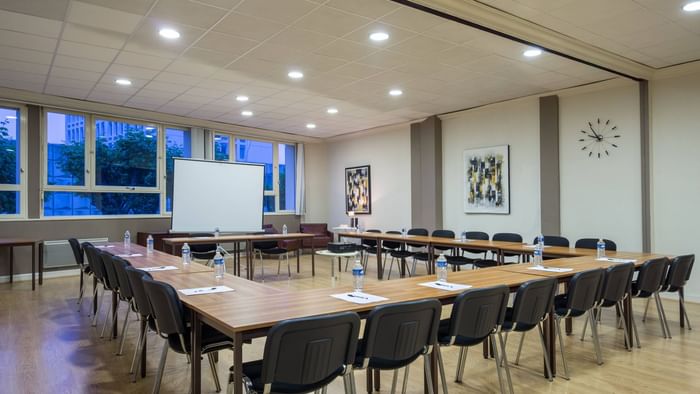 Health security

WiFi

Bycicle premises

Pets admitted

Garage

Lift

Seminar rooms
Rooms
The Originals City, Hotel Napoléon, La Roche-sur-Yon
We've created different atmospheres on each floor. The rooms are not all the same, Sébastian tells us. They "have personality and refined comfort," he continues. They can comfortably accommodate between one and four people. The style is contemporary while the decor is soothing with warm tones. Each room offers all the comfort you need for short or long stays with your partner, friends, family or colleagues.
Air-conditioned room
Television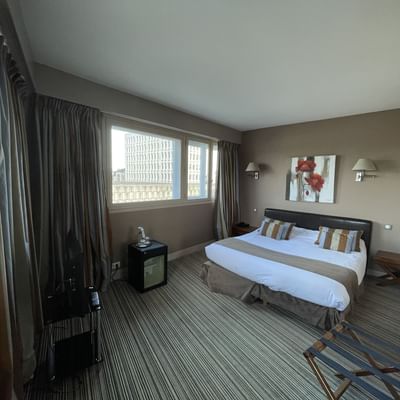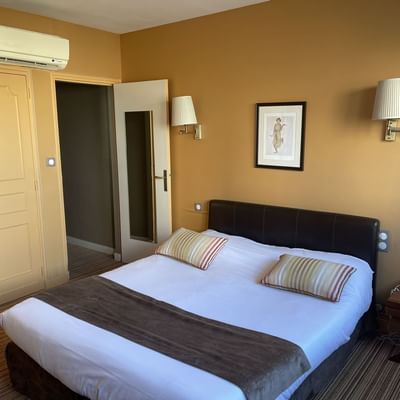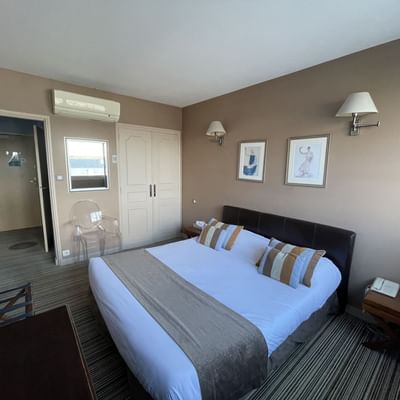 HOTEL INFORMATION
Check-In: 15h00
Check-out: 11h00
Annual Closure: 24/12 >25/12/18 // 31/12 > 01/01/19
The Originals City, Hotel Napoléon, La Roche-sur-Yon
50, boulevard Aristide Briand 85000 La Roche-sur-Yon, France
DON'T MISS THIS MONTH'S OFFERS!
Start planning your next getaway with our latest travel packages and exclusive hotel discounts.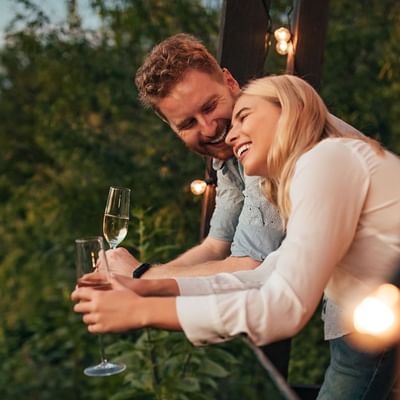 With the Short Break offer, you can benefit from a discount up to 30%.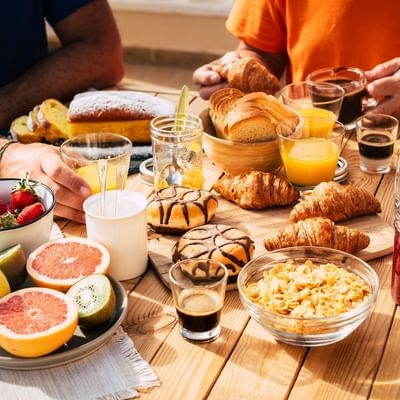 Breakfast is included in the price of the room.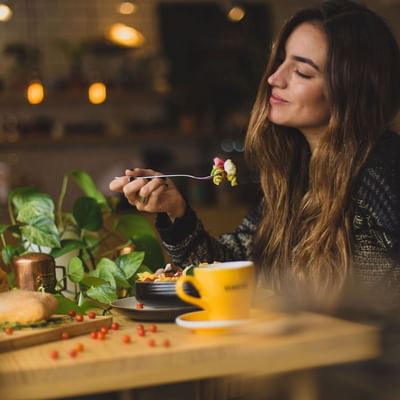 With the Half Board offer, breakfast and dinner are included in the price of the room.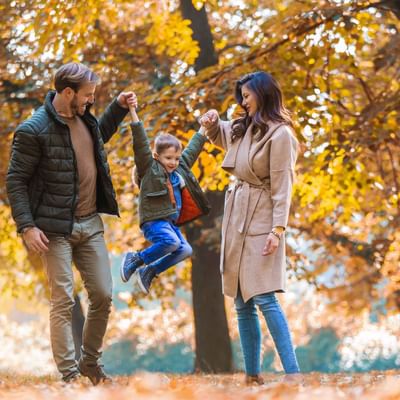 Go on holiday in complete freedom at a reasonable price. And if you have any unforeseen circumstances, you can change or cancel at any time.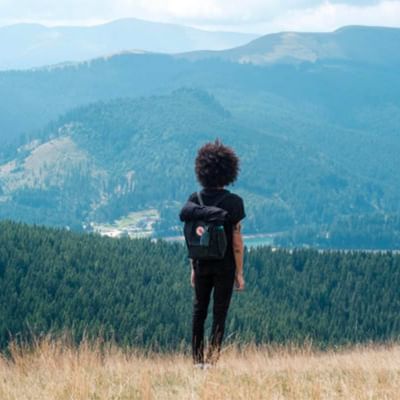 Take advantage of up to 30% discount by booking 15 days before your stay.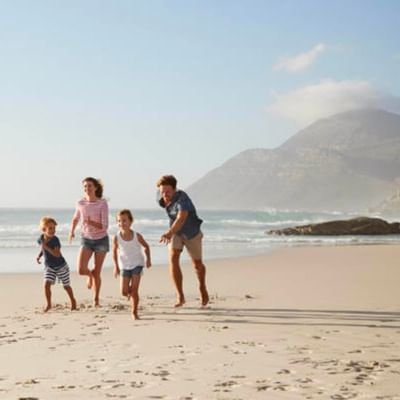 With the Stay Safe offer, book your next stay and get up to 20% discount.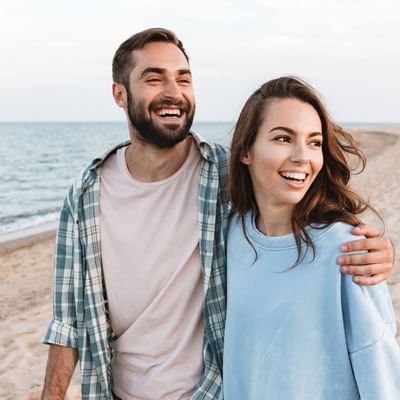 Book 30 days before your arrival and get a discount up to 25% on the price of your room to enjoy the best of local life.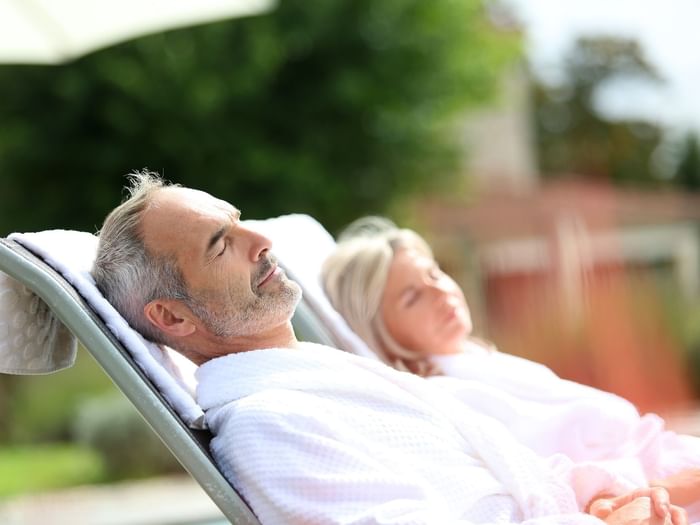 Wellness Experience
Wellness Experience : the price of your stay includes access to the Spa, and one hour of a la carte treatment for 2 people.
Find out more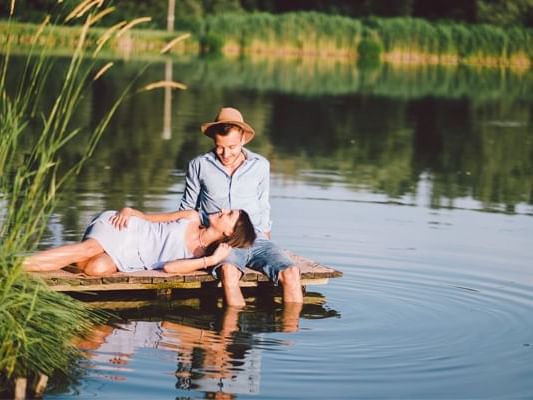 Culture and Nature Experience
Culture and Nature Experience : the price of the stay includes a breakfast and a sports or cultural activity for 2 people.
Find out more
Dining
The Originals City, Hotel Napoléon, La Roche-sur-Yon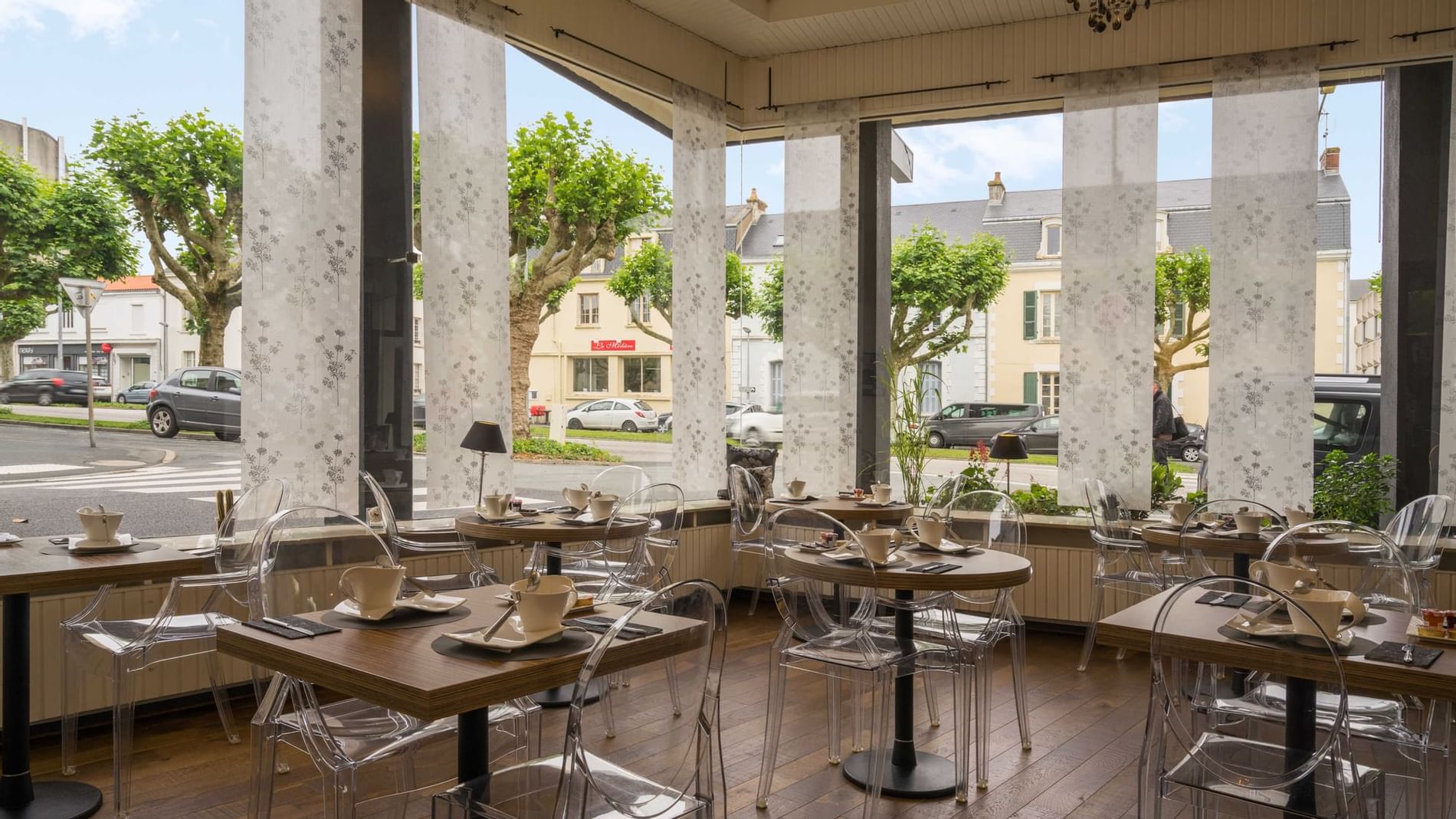 The Originals City, Hotel Napoléon, La Roche-sur-Yon has an elegant, spacious and bright breakfast room. And, to get your day off to a good start, Sébastien puts on a sweet and savoury semi-buffet breakfast. Come and enjoy delicious local products, including cheese and yoghurt, or have your breakfast served in your room (at an extra charge).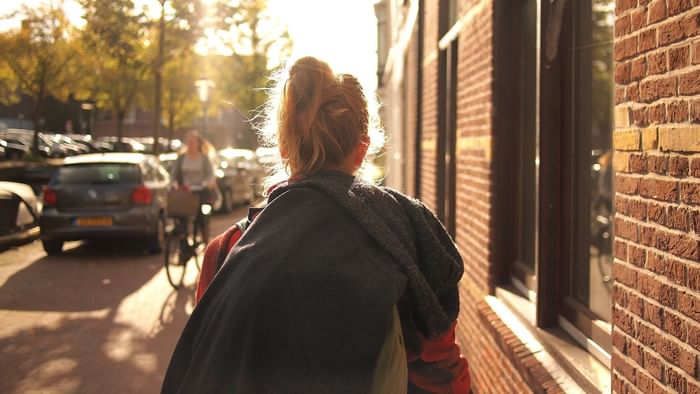 Tips from your hotelier
LA ROCHE-SUR-YON
La Roche-sur-Yon is a charming 'new town' built in 1804 by Napoleon. With discoveries aplenty, it's an appealing place where history meets modernity. The seat of the Principality in the Middle Ages, the town was developed around its château and Vieille Horloge quarter. Dating back to 1566, the Maison Renaissance is a wonderful vestige of this era. Napoleon I redesigned the town in the 19th century, giving it a pentagonal shape and draughtboard structure, and integrating Neoclassical buildings. Place Napoléon is one such example.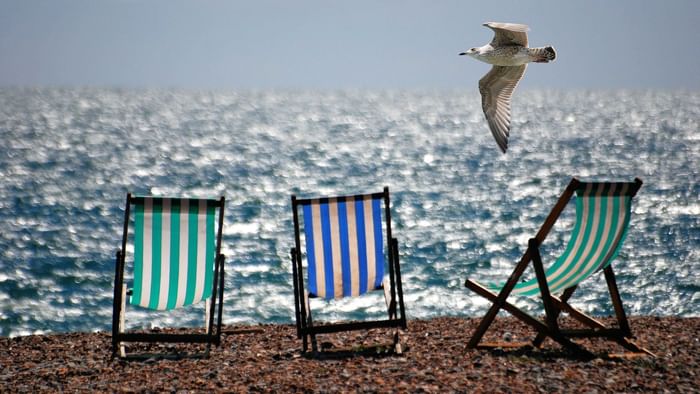 Tips from your hotelier
LES SABLES-D'OLONNE
The hotel is just 25 minutes from the ocean and the iconic Les Sables-d'Olonne seaside resort on the Côte de Lumière. Built on the sand of a barrier beach, the town extends between the lively quays of its harbour and its immense, gently sloping fine sandy beach, which runs for more than three kilometres to the foot of the famous Remblai promenade.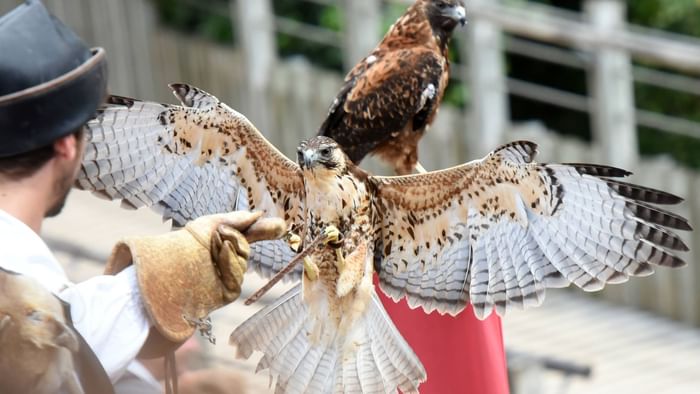 Tips from your hotelier
PUY-DU-FOU
Just 45 minutes from the hotel, the Puy-du-Fou park takes visitors on a journey through time with the help of special effects and pyrotechnics. Spectacular shows are organised in the prestigious setting of this incredible 50-hectare wooded area. A host of villages welcome you, immersing you in a wide variety of different themes. At nightfall, visitors hurry to the lakeside for a delightfully strange and fabulous concert. Towards the château, be sure to stop by the must-visit Cinéscénie, a sound and light extravaganza.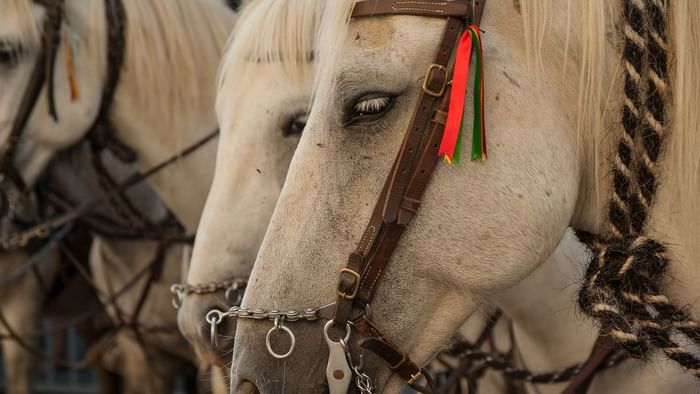 Tips from your hotelier
VENDÉE STUD FARM
Just a ten-minute walk from the hotel, the Vendée Stud Farm is a world apart devoted entirely to horses. Set off in search of a wide variety of majestic horses in the 4.5 hectare grounds. This is one of the biggest stud farms in France where you can admire a host of thoroughbred stallions and French Trotters and discover the stud farm occupations and horse culture.
MEETING ROOM
With a surface area of 120m², this bright and spacious room is modular and fully equipped. It can accommodate 50 people.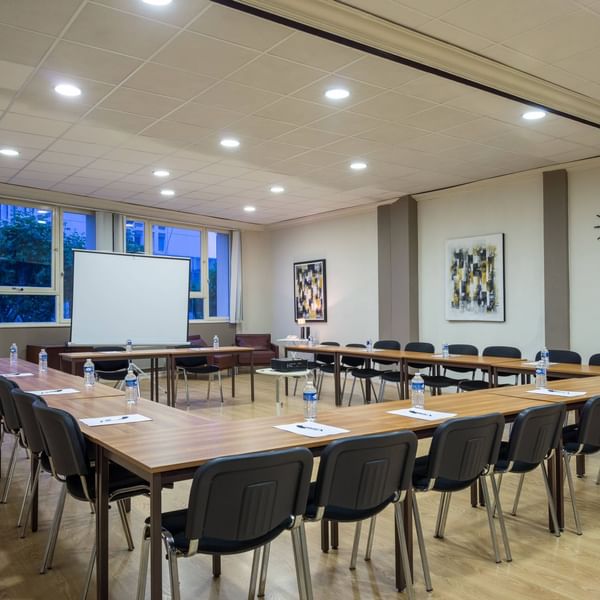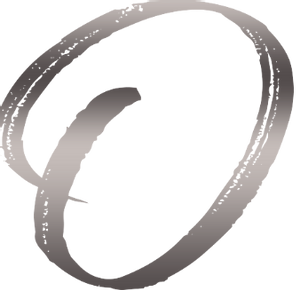 Meet our hoteliers
Meet Sébastien at his 3* hotel in La Roche-sur-Yon.
"I've always been drawn to traditional hospitality – contact with guests and quality service." 
Explore our hotels nearby
The Originals City, Hotel Napoléon, La Roche-sur-Yon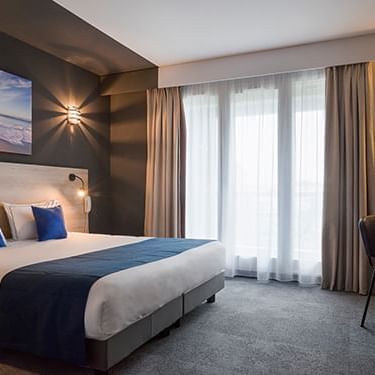 The Originals Boutique,
Hotel Admiral's, Les Sables-d'Olonne

(Inter-Hotel)