A fairytale wedding in France at Chateau-de-Perigny
A fairytale wedding in France at Chateau-de-Perigny
French chateaux are the height of elegance and romanticism. With luxurious interiors, splendid gardens and a wealth of activities nearby, they make the ultimate wedding destinations. Walking down the aisle in a French chateau is like fulfilling a fairytale dream. Choose the ultimate private French chateau for wedding hire with a hotel chateau in Nouvelle Aquitaine.
We invite you to check out our special offers to visit this castle hotel near Poitiers!
Wedding facilities at Chateau de Perigny
Featuring a delightful blend of 16th and 19th-century features, Chateau-de-Perigny makes the perfect celebratory setting. Its 7 modular interior spaces form a stunning reception space to host between 10 to 250 guests for grand or intimate occasions. Interiors feature classic exposed stone walls and beams for a sophisticated setting, all centred by sumptuous wall art and roaring fireplaces.
Whether you're celebrating within Chateau de Perigny's graceful indoor dining areas or in the balmy French sunshine, both provide unforgettable memories. Imagine the clink of champagne glasses on a classical patio overlooking French gardens in bloom. Enjoy the creative cuisine of the head chef, delivering a menu of locally sourced but internationally-inspired delicacies.
Accommodation at Chateau de Perigny, Vouillé
Each of the 43 rooms comes individually furnished with an elegant mix of classical French furniture and contemporary features. Ideal for those looking to host on-site, each bedroom comes with room service, mod-cons and an en-suite bathroom. You can choose between standard and luxury rooms for couples and solo guests, or family-sized suites and villas for groups.
With a chateau wedding, the venue fully cares for your guests. While the rooms alone provide stylish retreats for your family and friends, they also boast easy access to the chateau's prized grounds. A swimming pool, well-kept gardens and sleepy terraces provide ideal pre- or post-wedding day relaxation.
Activities and day trips from the chateau
Proving its worth as one of the best France honeymoon destinations, a Chateau de Perigny marriage brings you close to intoxicating attractions. The grounds have hosted a range of thrilling activities, like hot air balloon launches, easily accommodated in the castle's 35 acres. While there's plenty to enjoy on-site, from golf to tennis, Nouvelle-Aquitaine also offers day trips. Explore picture-postcard Poitiers or the family-friendly Futuroscope theme park.
Receive a warm welcome like no other in a celebration of love lit by the bucolic French countryside. Book a private French chateau for wedding hire with Chateau de Perigny Vouillé, The Originals Relais. Browse Chateau de Perigny photos to begin planning your big day.
1
HOTELS SELECTED FOR YOU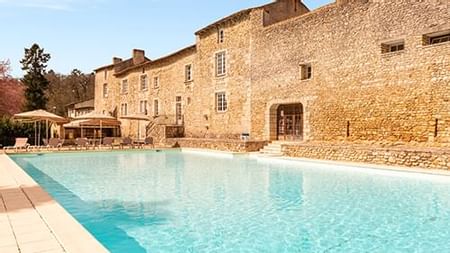 Vouillé , France
Château de Périgny,
The Originals Relais 40 Rue des Coteaux, 86190 Vouillé
See on map
WiFi

Bycicle premises

Free hotel car park

Pets admitted
Subscribe to our newsletter to receive our latest offers
SUBSCRIBE