A weekend in Biarritz with friends  
A weekend in Biarritz with friends  
Biarritz is a popular destination, with plenty to attract all kinds of travellers, from surfers to foodies. Make your Biarritz trip an unforgettable adventure with The Originals Hotels. Book now your weekend getaway to Biarritz and get up to 30% discount! 
Shopping in Biarritz 
Put on a pair of comfortable shoes and prepare to spend a full day exploring the charming boutiques. You'll be able to snap up special items that will drive your friends wild with envy in spots like Place Clémenceau or La Négresse. 
You'll find more than just clothes here, too. For a stylish reminder of your Biarritz weekend, look out for the traditional, high quality local Basque linens to decorate your home. 
Soaking up the culture in Biarritz 
Visit the Musée Historique de Biarritz to learn more about the unique history of this vibrant town. Here you can see how Biarritz went from a sleepy Basque fishing village to a holiday hotspot for royalty. 
An unexpected treat lies in wait in the form of the Musée Asiatica. This museum is dedicated to Asian art and culture. Over the years, the curators have assembled a spectacular collection of pieces, some centuries-old, from countries such as China, Nepal and India. 
Weekend adventures in Biarritz 
Stunning, rugged landscapes are a feature across the Basque coast. You'll have an unforgettable experience at the Rocher de la Vierge, which juts out over the sea for some spectacular scenery. 
Of course, no guide to Biarritz would be complete without mentioning the beach. The most famous is the Grande Plage, where holidaymakers flock throughout the summer months to surf, take a dip, or relax on the sand. As you explore the area, though, you'll find other hidden coves and secret smaller beaches 
What to eat in Biarritz 
For the ultimate taste of the Basque Country, go to Les Halles and visit the market. Inside, you'll find stalls selling all kinds of regional specialities, as well as famous French delights like cheese and charcuterie. 
Where to stay in Biarritz 
Stay with our local hoteliers and live memorable experiences. The Originals Hotels offers you a wealth of different options. Relax with your friends in the sauna at Hôtel Laminak, The Originals Relais, where you can enjoy a laid-back country vibe just outside the city.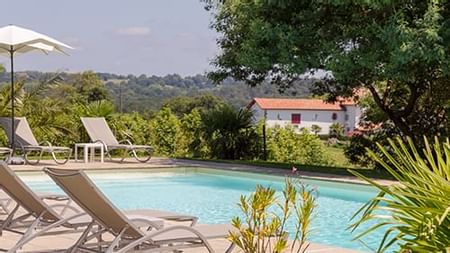 Arbonne , France
Hotel Laminak,
The Originals Relais

(Relais du Silence)

3, route de Saint-Pée, 64210 Arbonne See on map
WiFi

Bycicle premises

Air-conditioned room

Free hotel car park
Subscribe to our newsletter to receive our latest offers
SUBSCRIBE