Best Wine Tours And Tastings In France
Best Wine Tours And Tastings In France
France - it's the home of wine and if you're a wine-lover, a wine tasting tour of France is surely on your bucket list! Visit the classic vineyards in Bordeaux and other southern France wine regions and you can really add another dimension to your tasting.
Unlock our wine tasting experience now at The Originals Hotels!
The Classic French Wine Regions
France has many famous wine regions, but foremost among them must be Bordeaux. Bordeaux wines are mostly red, with a blend of grape varieties. Some of the most famous reds, like Chateau Latour and Chateau Margaux are from this region.
Burgundy is another big name, and has the largest range of appellations of any French region. They are divided evenly between white and red and wines from the Cote d'Or can command some of the highest prices!
Champagne hardly needs an introduction. It is the home of the famous sparkling white, but also some rosé and a small amount of still red wines.
Languedoc also deserves a mention, as it's the largest wine region by area, so you'll find lots to taste here! Of course we're only scratching the surface, but these regions are must-visits for the wine enthusiast.

Wine Tasting in France
Just being in France and drinking the wines is a great start, but to experience the best wine tasting in France, you need the guidance of an expert. The best wine regions in France will offer tours of famous vineyards, where you can see how the wine is produced and taste it at various stages of its development. You'll also be able to buy a bottle or two to take home with you!

Where to Stay for Your French Wine Experience
Le Relais de Saint-Preuil, The Originals Relais is situated in the heart of the cognac area, so you can explore more than just wine. Here, the hotelier's husband Jean-Luc will get you exclusive access to normally closed vineyards and cognac producers.
A wine tour can really deepen your understanding of the wine that you drink. At The Originals Hotels, we think we have some of the best places for you to start your exploration!
1
HOTELS SELECTED FOR YOU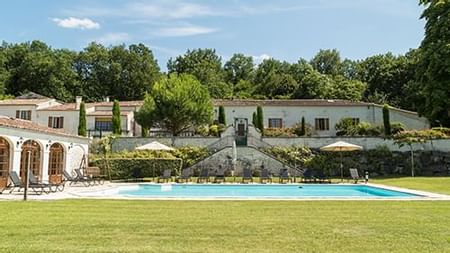 Saint-Preuil , France
Le Relais de Saint-Preuil,
The Originals Relais

(Relais du Silence)

10 Rue du Bois Mongin, 16130 Saint-Preuil See on map
WiFi

Fitness room

Bycicle premises

Free hotel car park