Discover Normandy's enchanting coast
Discover Normandy's enchanting coast
Famed for its wartime memories, monastic heritage and captivating coastline, Normandy is a beautiful setting for a long weekend break. Its most captivating sight is Mont-St-Michel, a Gothic landmark that will transport you back in time. Discover Normandy's rich history and natural beauty with hotels near Mont-St-Michel.
Unlock our special offers and get the best deal booking online at The Originals Hotels website!
What to do near Mont-St-Michel
The iconic image of Mont-St-Michel towering from its islet setting captivates all when first seen. The tidal bridge can disappear underwater in an instant, leaving the island isolated from the mainland. The Abbaye du Mont-St-Michel is at the centre, a 16th-century monastery of Gothic splendor. There has been monastic activity on the island since at least the 9th century, and the island has played a role in many of France's historical moments. Depicted in the Bayeux Tapestry, you can even visit this precious artefact at nearby Bayeux.
Mont-St-Michel warrants a good half-day of exploring its main street, La Grande Rue, alongside its fortifications, Abbey and epic vistas from the shore. The immediate region is also ripe with alluring sites for a memorable family or romantic getaway. You'll find St-Malo along the coast, a dramatic and historic port town with old city walls and an islet fort of its own, Fort du Petit Bé. Then, there's the food. This pocket of France is renowned for its seafood with fishing ports like Cancale and Saint-Servan serving up fresh oysters, crab and lobster.
Activities and excursions near Mont-St-Michel
The Mont-St-Michel area is loaded with natural wonders and excursions. Avid horse riders can saddle up to explore the Bay of the Mont-St-Michel at a thundering pace. Home to some 148 km of sandy scenery, you can travel on through green trails to La digue de la Duchesse Anne. The sinewy and bucolic wetlands of the Parc Naturel Régional des Marais du Cotentin et du Bessin provide plentiful hikes and bird-watching fun further up the coast.
Treat yourself to a splendid stay at the Hotel Manoir de la Roche Torin. This elegant 19th-century hotel overlooks the Normandy coast with bay trails leading to Mont-St-Michel. These enjoyable walks deliver picture-postcard scenery of the agneau de pré-salé (salt marsh lamb) grazing along coastal meadows. The manor strikes the perfect balance between tradition and relaxation with authentic Normandy cuisine and discerning, stone-built interiors. Book a memorable weekend break in Manoir de la Roche Torin.
1
HOTELS SELECTED FOR YOU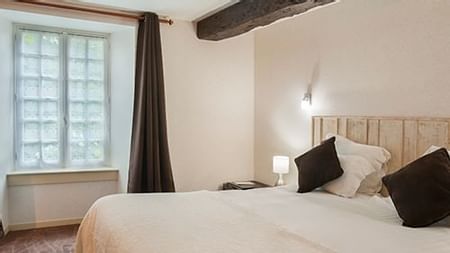 Courtils , France
Manoir de la Roche Torin,
The Originals Relais

(Relais du Silence)

34 Route de Roche Torin, 50220 Courtils See on map
WiFi

Bycicle premises

Free hotel car park

Pets admitted
Subscribe to our newsletter to receive our latest offers
SUBSCRIBE