Discover the most beautiful medieval villages in France
Discover the most beautiful medieval villages in France
Rural France is a world away from the metropolitan bustle of Paris. There are many medieval towns in France where it feels like life hasn't changed for hundreds of years. These towns and villages are often hidden away in the depths of the countryside, but luckily The Original Hotels offers some great bases for discovery!
Unlock our Smooth rate now and get the best price at the Originals Hotels!
Medieval towns in northern France
The northern regions of Normandy and Brittany have some of the most spectacular medieval towns in France. Take Mont-Saint-Michel for example, an island commune with a majestic eleventh century Abbey. Formerly connected to the mainland by a tidal causeway, it now has a bridge, so there's no danger of getting stranded!
Not far from Mont-Saint-Michel is the beautiful Brittany town of Saint Malo. It has a city wall and centuries of history within it and is a fine place for architectural historians to explore. Being by the sea, it also has fine sandy beaches and a sophisticated yacht club.
Medieval towns in southern France
The south of France is also packed with medieval settlements, particularly in Provence and Occitanie. The hilltop location of many of these towns is a testament to their rich history of conflict. Thankfully, the conflict is over, but the sights remain!

Try visiting Gordes, near Avignon. The white stone buildings and narrow cobbled streets will transport you back to the fourteenth century. Meanwhile further east, Yvoire, overlooking Lake Geneva, is another medieval gem. The stunning fourteenth-century castle is well worth a visit, and you can also enjoy a refreshing swim in the lake.
Where to stay
Accommodation can be limited in some of the smaller medieval villages in France. But at The Originals Hotels, we have plenty of fantastic hotels in great locations for exploring.
The Mas des Romarins, The Originals Relais in Provence is right in the centre of the medieval town of Gordes. It's also close to Avignon, the papal seat during the middle ages. The stone buildings of the hotel have thirteen tasteful and comfortable rooms.
Chalet-Hotel Les Gentianettes, The Originals Relais is well situated for exploring the spa towns of Lake Geneva, including Yvoire. The cosy and comfortable rooms are a perfect retreat for day-trippers and not too far from the beautiful medieval towns of Alsace.
In the north, the Grand Hotel de Courtoisville - Piscine & Spa, The Originals Relais offers you a historic building with all modern comforts in Saint Malo. You can explore the town itself and also travel to nearby villages for your historical researches.
With France's diverse geography and rich history, these medieval villages offer a true glimpse into the past. We're sure you'll find your perfect place to stay in one of our hotels!

2
HOTELS SELECTED FOR YOU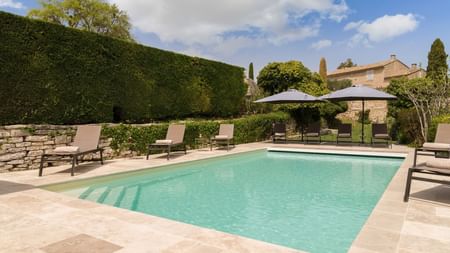 Gordes , France
Mas des Romarins,
The Originals Relais

(Relais du Silence)

Route de Senanque, 84220 Gordes See on map
WiFi

Bycicle premises

Air-conditioned room

Free hotel car park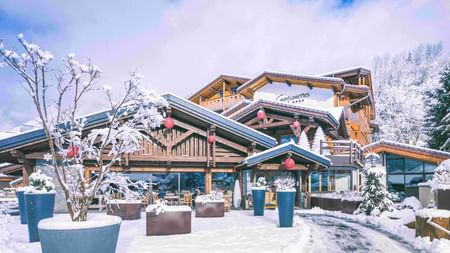 La Chapelle-d'Abondance , France
Chalet-Hotel Les Gentianettes,
The Originals Relais

(Hôtel-Chalet de Tradition)

73 route de Chevennes, 74360 La Chapelle-d'Abondance See on map
WiFi

Bycicle premises

Fee-paying hotel car park

Restaurant