Exploring Monet's Normandy
Exploring Monet's Normandy
Claude Monet was one of France's most celebrated artists, the founder of the Impressionist school of painting. Many of his masterpieces, particularly his takes on waterlilies, are instantly recognisable. Born in Paris in 1840, Monet moved to Normandy when he was five years old - and here is where you'll find, with the help of The Originals Hotels, his favourite inspirations. Unlock our Smooth Rate and stay at The Originals Hotels at the best price!
Monet's Garden at Giverny
Monet moved to Giverny in 1883, where his garden was an endless source of inspiration. Today, this well-preserved garden is divided into two sections: the Clos Normand flower garden and the Japanese water garden, home to the famous bridge and waterlilies. Monet planted the flowers himself, sowing them according to colour and allowing them to spread freely.
When visiting Giverny, you'll find that the garden is open for around seven months each year. You can also go inside Monet's house, where you can see his private living quarters and the studio in which he painted so many of his celebrated works.
Monet in Rouen
Visit Rouen Cathedral, where Monet created some of his most celebrated works. His Roeun Cathedral series consists of 31 canvases; the paintings show the same façade at different times of the year, in varying weather and lighting conditions.
Today, these paintings are in a number of galleries around the world - but if you want to see the real thing, you'll have to visit Rouen. Within the town's Musée des Beaux-Arts, you'll find one of Monet's views of the cathedral, among a large collection of Impressionist works.
Monet in Honfleur and Le Havre
Around Honfleur, you'll find many spots that inspired Monet, such as the Vieux Bassin harbour and the 17th century Notre-Dame de Grâce Chapel, which you can reach by climbing to the top of the town's hill. This charming town remains picturesque, with the harbour still full of fishing boats.
In Le Havre, the André Malraux Museum of Modern Art contains a 1904 painting of waterlilies. You can also visit the coastal Trouville-sur-Mer resort, painted by Monet in 1870.
Where to stay in Monet's Normandy
There are some excellent hotels near Monet's garden in Giverny and other sites. The Originals City, Hotel Notre Dame, Rouen is a cosy hotel right in the heart of Rouen, the ideal spot to explore this stunning, historic city. Wondering where to stay in Honfleur? Try the nearby The Originals City, Hotel Acadine, Pont-Audemer. This hotel has a generous breakfast buffet of local products and a relaxing wellness centre.
End Of Article
2
HOTELS SELECTED FOR YOU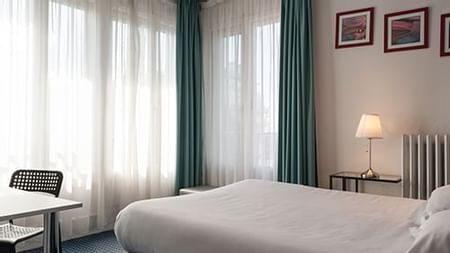 Rouen , France
The Originals City,
Hotel Notre Dame, Rouen

(Inter-Hotel)

4 rue de la savonnerie, 76000 Rouen See on map
WiFi

Pets admitted

Television

Family/communicating rooms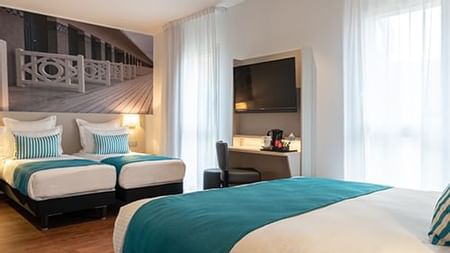 PONT-AUDEMER , France
The Originals City,
Hotel Acadine, Pont-Audemer 12 Rue du Président Georges Pompidou, 27500 PONT-AUDEMER
See on map
WiFi

Fitness room

24h access by automatic teller

Bycicle premises
Subscribe to our newsletter to receive our latest offers
SUBSCRIBE