Get lost with your loved one: a romantic getaway in Paris
Get lost with your loved one: a romantic getaway in Paris
What could be more romantic than the City of Lights? Paris has been enchanting couples for hundreds of years. With The Originals Hotels' guide to the most romantic things to do in Paris, you're sure to fall in love with the city. Unlock our Smooth Rate and stay at The Originals Hotels at the best price!
Stroll around the streets of Montmartre
This picturesque neighbourhood has become incredibly popular with tourists - but it's still possible to find hidden corners and secret spots. Throw away your map and explore! It's hard to truly get lost if you remember that the Basilica de Sacré Coeur is at the top of the hill. The view from there is spectacular and becomes even more romantic after dark.
Among these historic, cobbled streets you can find the Moulin Rouge and the charming Montmartre Museum. Of course, no romantic trip in Paris can miss the Wall of Love, where you'll find the words "I love you" in 250 languages. It's the perfect spot for a quick snapshot with your partner.
Discover the Bois de Boulogne with a romantic picnic
The Bois de Boulogne is the largest park in Paris. You can rent a bike or go boating on the lake. You could also just take a stroll around the water until you reach the Grande Cascade waterfall.
Find a spot nearby for a delightful picnic lunch, with the sound of the water in your ears. Be sure to pack a good baguette and some delicious French cheese.
Take a sunset cruise along the Seine
There are lots of options for sunset boat trips along Paris' river. Some have dinner included, while others will just give you a glass of champagne and the chance to toast your partner.
This is the perfect end to a busy day in the city. Sit back, relax, and enjoy the view!
Where to stay for maximum romance
The Originals Boutique, Hotel Maison Montmartre, Paris is a modern hotel which offers unparalleled views of Montmartre. It's the perfect spot if you want to explore this part of Paris, as you'll be able to get around on foot and discover the area's hidden gems.
Right in the heart of the city, The Originals City, Hotel Paix République Paris, is a stone's throw from some of the most famous museums and galleries. For an enchanting experience, book a room with a balcony overlooking Le Marais.

End Of Article
2
HOTELS SELECTED FOR YOU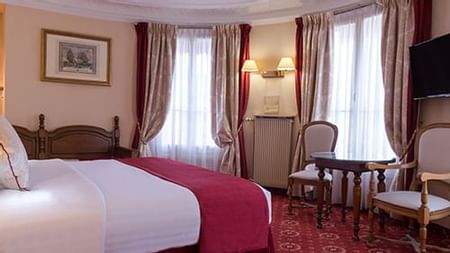 Paris , France
The Originals City,
Hotel Paix République, Paris

(Inter-Hotel)

2 bis boulevard Saint-Martin, 75010 Paris See on map
WiFi

Air-conditioned room

Lift

Night porter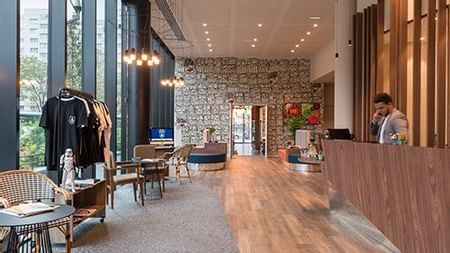 Paris , France
The Originals Boutique,
Hotel Maison Montmartre, Paris 32 Avenue de la Porte de Montmartre, 75018 Paris
See on map
WiFi

Pets admitted

Fee-paying hotel car park

Bar
Subscribe to our newsletter to receive our latest offers
SUBSCRIBE