Gourmet dining in the heart of the Loire Valley
Gourmet dining in the heart of the Loire Valley
Antoine Bergeron has been awarded a Michelin star for the superb cuisine on offer at La Source, the in-house restaurant of Domaine de la Charpinière, The Originals Collection, a well-known gastronomic landmark near Saint-Étienne.
We caught up with this renowned young chef to learn more about a gourmet experience like no other to discover in the heart of the Loire Valley.
Loire inspiration
Rolling fields of endless green, gently winding waterways and castles out of a fairytale. These are the hallmarks of the Loire Valley, a region that inspires thousands of visitors every year. Domaine de la Charpinière, The Originals Collection combines tradition with elegance and offers you relax, well-being and great food.
Antoine Bergeron grew up in this enchanting environment, and its magic has never left him. He proudly describes himself as a "local kid" of the Loire Valley. This is the attitude that he brings to his kitchen. "I cook with 90% local products," he explains. "I find inspiration in the region's farmers and the different products that they offer each season."
Antoine takes local produce and puts his own spin on it, conjuring up captivating dishes that treat classic ingredients in new and exciting ways. "There aren't really any traditional dishes on my menu. Having said that, there is a regional delicacy that can be found in my dishes: the rapée stéphanoise." made with grated potato, a cornerstone of Loire Valley cuisine not to be missed.
Ingredients that sing

La Source has an ever-changing menu that moves with the seasons, but some things remain constant. "I love the local snails, onions and potatoes," says Antoine. "I cook using snails throughout the year."
This approach brings some challenges, which have forced Antoine to get creative in the kitchen. "I used to cook with marine products," he explains, "but I decided to really do something local using products from the Loire." This led him to start cooking with freshwater fish from local lakes. Served with seasonal vegetables, these fish dishes are the epitome of fresh and local.
Expect to be surprised when you open the menu at La Source: "There will always be fish and vegetables, but the type of fish and vegetables may change." It all depends on the producers, who inspire Antoine's creativity in the kitchen: "Sometimes I have recipe ideas, and I adjust them according to the seasonal products offered."

Behind the scenes
Antoine may be a visionary chef, but he's got his feet firmly on the ground. "I am nothing without my team," he says, paying tribute to his hard-working staff. He's also not fussed about adding a second star to his Michelin collection: "We have to continue to please our customers and cook for fun"...
Even with his success, Antoine remains humble. Above all, his passion is for the locality. He's from the Loire Valley, and he's staying here. "Throughout my life, this region has spoken to me and inspired me." Let it inspire you too, with a meal at La Source and a stay at Domaine de la Charpinière, The Originals Collection.

End Of Article

1
HOTELS SELECTED FOR YOU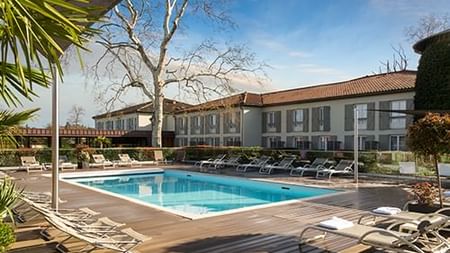 Saint-Galmier , France
Domaine de la Charpinière,
The Originals Collection

(Relais du Silence)

La Charpinière 8, allée de La Charpinière, 42330 Saint-Galmier See on map
WiFi

Fitness room

Air-conditioned room

Free hotel car park
Subscribe to our newsletter to receive our latest offers
SUBSCRIBE