How to spend a romantic weekend in Bordeaux 
How to spend a romantic weekend in Bordeaux 
Bordeaux is best known for its gorgeous vineyards and exceptional wines, making it an ideal spot for a romantic getaway. Book now your weekend getaway and get up to 30% discount with The Originals Hotels
Enjoy culture in Bordeaux
Take a stroll through Bordeaux city, and you'll find plenty of buildings to captivate you. A romantic walk along the banks of the Garonne can lead you to such sights as the Grand Théâtre de Bordeaux, the Bordeaux Cathedral, and the stunning Pont de Pierre bridge. For a romantic ambience, nothing beats Place de la Bourse, a square with a spectacular reflecting pool that is the perfect backdrop to your visit.
Take a Bordeaux shopping trip
Your romantic weekend in Bordeaux may well include a trip to the shops. The Promenade Sainte Catherine is one of the best places to browse. Even if you're just window-shopping, the charming boutiques here will give you plenty to look at.
Food and wine in Bordeaux
What would a romantic getaway to Bordeaux be without wine? The full-bodied local red is famous across the world, and you'll find plenty of chances to sample it during your stay here.
Bordeaux wine will often make its way onto your plate, too. Entrecôte marchand de vin is the most famous local speciality. This rich dish consists of a delicious steak cooked in a sauce made from wine, butter and shallots. It's certainly not one for calorie counters!
Bordeaux adventures
One of the most romantic things to do in Bordeaux has to be a trip to La Cité du Vin. This wine museum is dedicated to France's favourite drink. You'll learn how to taste like a pro, as well as uncovering some fascinating facts about the world history of wine.
More wine adventures can be had at Château La Dominique, a UNESCO World Heritage Site where you'll be able to see how wine is made first-hand. If you're lucky, you may even get the chance to stomp some grapes.
Where to stay in Bordeaux
The Originals Hotels offers romantic hotels in Bordeaux to suit all tastes and budgets. Want something a little more tranquil? The Originals City, Hôtel du Phare, Bordeaux has a stunning pool where you and your partner can relax and forget all your worries.
Live authentic experiences with our local hoteliers and treat your partner to something special when you stay with The Originals Hotels.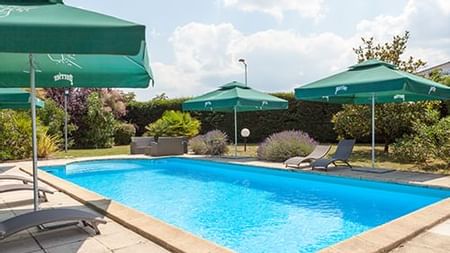 Mérignac , France
The Originals City,
Hotel du Phare, Bordeaux Mérignac

(Inter-Hotel)

3, rue des Châtaigniers Rocade sortie 10 - Direction Mérignac Centre, 33700 Mérignac See on map
WiFi

Bycicle premises

Air-conditioned room

Free hotel car park
Subscribe to our newsletter to receive our latest offers
SUBSCRIBE