Menhirs and megaliths: exploring the stones of Brittany
Menhirs and megaliths: exploring the stones of Brittany
Thrilling, inspirational and packed with history, Brittany's standing stones have plenty to interest young and old. Follow The Originals Hotels' guide to the best menhirs and dolmens in France, and prepare for an adventure like no other. Unlock our Smooth Rate and stay at The Originals Hotels at the best price!
The Alignements de Carnac
Visit the Carnac stones to discover one of the world's most enduring historical mysteries. Nobody understands why this collection of over 3,000 standing stones was erected - but they continue to attract visitors each year. One local legend even claims that Roman soldiers were turned into stone by a powerful wizard.
These ancient stones are open to visitors from October to March. Visit in the summer months and you'll need to join an official guided tour to see them.
Le Grand Menhir Brisé
Once one of the largest standing stones in Europe, today you'll see Le Grand Menhir Brisé in four enormous pieces; it fell and broke thousands of years ago. Some scholars believe that it dates back as far as 4,500 BC.
This menhir represents another fascinating historical mystery. As a complete stone, it weighed some 280 tonnes - a challenge even for modern machinery to move and erect. Somehow, it was transported at least 10km to its current site.
Locmariaquer
While visiting the menhir, you'll want to see the full complex at Locmariaquer. The Er-Grah tumulus is a monumental burial structure, while the Table des Marchands is a passage tomb, with a number of ancient graves inside.
Information in the visitor centre will explain all about the unique and stunning history behind this remarkable site. Guided tours are available if you want to learn more about the background.
Where to stay
Hotel du Golf de Saint-Laurent, The Originals Relais is one of the best places to stay if you want to visit Carnac in Brittany. Serene and relaxing, this hotel boasts a 9-hole golf course, spa, and year-round swimming pool.
Just 30km from the site at Locmariaquer, The Originals City, Hotel Manche-Océan, Vannes Centre has great views of the local cathedral. Expect a warm welcome and delicious Breton pastries at breakfast time.
The Originals City, Hotel Les Océanes, Lorient is another great option for exploring Brittany. This charming, cosy hotel is fully renovated, with wonderfully comfortable, modern rooms.

End Of Article
2
HOTELS SELECTED FOR YOU
Vannes , France
The Originals Boutique,
Hotel Le Maury, Vannes Centre 31, rue du Lieutenant-Colonel Maury, 56000 Vannes
See on map
WiFi

Fitness room

Bycicle premises

Air-conditioned room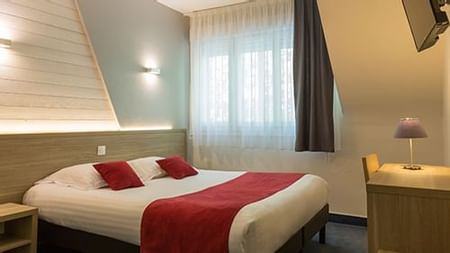 Lorient , France
The Originals City,
Hotel Les Océanes, Lorient

(Inter-Hotel)

17, avenue de la Perrière, 56100 Lorient See on map
WiFi

Electric vehicle charging station

Bar

Golf course nearby
Subscribe to our newsletter to receive our latest offers
SUBSCRIBE