Secret islands to discover off the Brittany coast
Secret islands to discover off the Brittany coast
Think you know France? Think again! The Originals Hotels offers you a guide to some of the country's best-kept secrets: stunning islands off the coast of Brittany for you to explore. Unlock our Smooth Rate and stay at The Originals Hotels at the best price!
Île de Bréhat
You can get to Île de Bréhat in a simple, 10-minute boat journey from Pointe de l'Arcouest. This paradise island is car-free, so if you want to get around on wheels, you'll need to hire a bike from Port-Clos. The island has a Mediterranean-style microclimate and a large colony of puffins.
Île d'Ouessant
The westernmost island in Finistère, Ouessant has five lighthouses, including the impressive Le Stiff, which dates back to 1695. Take a cycling tour along the island's 32 kilometres of paths, or go for a long hike along the coastal path. For the most spectacular views, visit during bird migration season.
Belle-Île
The name Belle-Île literally means "beautiful isle" - and it's well-named! This is Brittany's largest island, and it's possible to get around by car. The southwest Côte Sauvage is a hiker's paradise, while music lovers should visit in August for the world-renowned opera festival.
Île de Groix
A 45-minute ferry ride from Lorient, Île de Groix was once the centre of France's tuna fishing industry. In fact, when you visit the local church, you'll see a tuna at the top of its bell tower. Today, though, it's better known for its stunning beaches. Much of the island is a nature reserve; visit in summer for red sand beaches and glorious views.
Île de Batz
It will take you just 15 minutes to travel by boat to this island - but you'll feel like you've been transported to another world. Visit in spring to see admire 2,000 species of exotic flowers. Look out for the Bronze Age remains that make this island particularly interesting.
Where to stay near the islands of Brittany
The Originals City, Hotel Armen Le Triton, Roscoff makes a great base to explore Île de Batz. This peaceful hotel, surrounded by trees, is close to the beach and offers unparalleled tranquillity.
For a trip to Île d'Ouessant, stay at Hostellerie Pointe Saint-Mathieu, The Originals Collection. Simple but spacious, this comfortable hotel has a generous wellness area with a sauna, jacuzzi and swimming pool for your enjoyment.
End Of Article
1
HOTELS SELECTED FOR YOU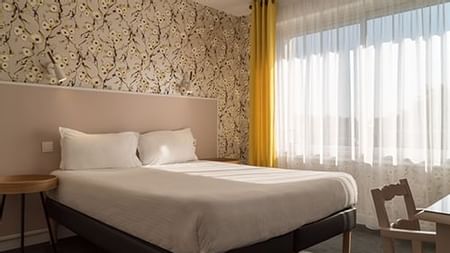 Roscoff , France
The Originals City,
Hotel Armen Le Triton, Roscoff

(Inter-Hotel)

3, venelle de Roc'higou, 29680 Roscoff See on map
WiFi

Bycicle premises

Free hotel car park

Pets admitted
Subscribe to our newsletter to receive our latest offers
SUBSCRIBE