Taste the best of France this summer: Seafood Specialities
Taste the best of France this summer: Seafood Specialities
Fresh grilled sole with butter and parsley, flavorsome fish stews, Moules Marinière, gigantic mounds of crustaceans - if this gets your mouth watering, you're probably a seafood lover. And what better place to enjoy it than France? Read on to discover more about the best seafood in France this summer!
Unlock our Gourmet Experience and stay at The Originals Hotels at the best price!
Mediterranean Seafood Delights
Southern France, with its warm Mediterranean and Atlantic waters, is a fantastic place to enjoy seafood. Here the dishes are often robust with vibrant, exciting flavours: dishes like Rouille de Seiche, for example. It's a speciality of Sète in Occitania and features cuttlefish in a rich white wine and tomato sauce, finished with garlic and aioli. Or how about the cuisine of the Pays Basque? Here the food has a Spanish influence, so you have dishes like Thon Basquaise, fresh tuna steaks with garlic, tomatoes and peppers.
Then there's the world famous Bouillabaisse. A specific combination of local fish, cooked with tomatoes, saffron and Provençal herbs and served with rouille and croutons, this is a dish to be shared. It's a dish that alone justifies a trip to the home of Bouillabaisse, Marseille.

Seafood in Paris and Northern France
Of course, the seafood doesn't stop in the Mediterranean. If you like a huge seafood platter, piled high with lobster, crab, prawns, mussels, cockles and oysters, you'd better come to Paris! The classic Plateau de Fruits de Mer, probably the very best seafood in Paris, France, is usually served with fresh mayonnaise, a couple of crusty baguettes and a cool, flinty white wine. A lunch like this takes all afternoon, and that's only a good thing!
Heading a little further north, you'll find the charming fishing villages of Normandy and hearty local seafood stews like Marmite Dieppoise and Moules Marinière. One of the tastiest local dishes is Coquilles Saint-Jacques. Scallops are probably the best seafood in Normandy and in this dish, they are baked in a creamy sauce and finished under the grill with a breadcrumb topping.

Where to Stay
To sample the seafood specialities of Normandy, you can't do better than the fishing port of St Malo. We therefore offer you The Originals Boutique, Hotel des Marins, Saint-Malo. Nestled in the old city wall, it's the perfect base for your seafood adventure!
Paris has no shortage of hotels of course, but if you want to be assured of quality, book into Domaine de Bellevue, The Originals Relais. You're guaranteed a warm welcome and exceptional comfort.
Wherever you go, and whatever food you choose to try, we're sure you'll find comfort and taste with The Originals Hotels.
2
HOTELS SELECTED FOR YOU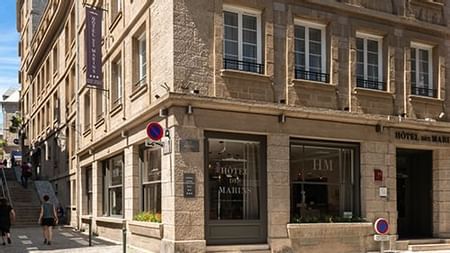 Saint-Malo , France
The Originals Boutique,
Hotel des Marins, Saint-Malo

(Inter-Hotel)

2, rue des Marins, 35400 Saint-Malo See on map
WiFi

Bycicle premises

Fee-paying hotel car park

Bar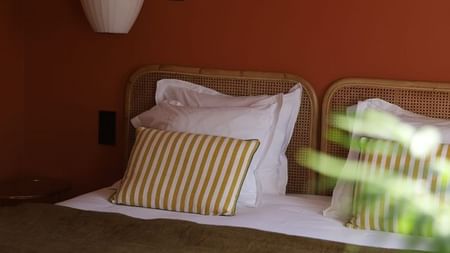 Neufmoutiers-en-Brie , France
Domaine de Bellevue,
The Originals Relais

(Relais du Silence)

19, rue de l'Église, 77610 Neufmoutiers-en-Brie See on map
WiFi

Air-conditioned room

Free hotel car park

Pets admitted
Subscribe to our newsletter to receive our latest offers
SUBSCRIBE