The perfect day trip from Rennes
The perfect day trip from Rennes
With its historic centre and stunning cathedral, Rennes is a popular French tourist destination. If you're staying there, don't miss the chance to explore beyond the city limits! Follow The Originals Hotels' itinerary for a day packed with nature, adventure, and fine dining. Unlock our Smooth Rate and stay at The Originals Hotels at the best price!
Into the wild
The Normandie-Maine Regional Nature Park is a vast, sprawling green space covering 257,000 hectares of land. Within this expanse is a varied landscape with everything from peat bogs to mountains. A day out here could involve a casual stroll through farmland, admiring the placid grazing cows, or a hike deep into dark, ancient forests.
It would be impossible to see everything in the park in just one day, but there are a few top highlights, depending on what you're into. La Fosse Arthour is a popular destination for hikers. It is said that King Arthur died in this 70-metre deep gorge. Whether you believe the myth or not, you can't deny that the scenery is spectacular!
If wilderness and forest isn't your thing, you could follow the Route du Poiré, the Perry Cider Trail, that will lead you through the area's famous farmland, alongside picturesque orchards. It's best experienced in autumn when the harvest is in full swing.
Foods from the forest
When you've worked up an appetite, head for Bagnoles-de-l'Orne. In this charming town, you'll find Manoir du Lys, a Michelin-starred restaurant that is a local landmark. The menu here emphasises seasonality above all else. You could enjoy a standard 3-course meal, or indulge yourself with the seasonal tasting menu of five or seven courses.
Visit in the autumn and local mushrooms are the stars of the show, picked fresh from the forest. At any time, though, the menu teems with delicious produce from Norman lobster and shellfish to hearty veal dishes. Of course, apples and camembert always make an appearance, too!
A chance to relax
Now what? You could head back to Rennes, but Bagnoles-de-l'Orne is worth exploring, with its lake, forest and thermal spas. There are more hiking trails to try out if you want another day in the park. Horse lovers shouldn't miss the Orne Stud Trail, which passes the spectacular stud farm known in France as "Versailles for horses", where some of the finest equines in the world are bred.
Why not relax overnight in Le Manoir du Lys, The Originals Relais, a converted hunting lodge? Every room is different and, as well as the Michelin-starred restaurant, the hotel offers forest views, an indoor and outdoor pool, a relaxation zone and mountain bike rental. It makes the perfect base for an overnight stay if you just can't get enough of the area!
End Of Article
1
HOTELS SELECTED FOR YOU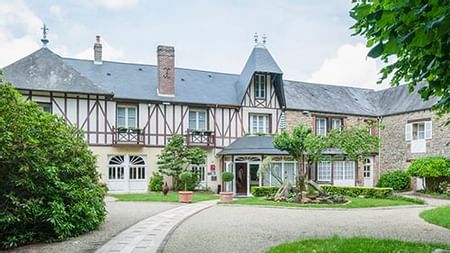 Bagnoles-de-l'Orne , France
Le Manoir du Lys,
The Originals Relais

(Relais du Silence)

Route de Juvigny sous Andaines, 61140 Bagnoles-de-l'Orne See on map
WiFi

Air-conditioned room

Free hotel car park

Pets admitted
Subscribe to our newsletter to receive our latest offers
SUBSCRIBE