Top hiking destinations in Europe
Top hiking destinations in Europe
Clean, fresh air in your lungs, beautiful views all around you, and a spot of sport - who doesn't love hiking? Following hiking routes in Europe is a great way to spend a holiday. It's healthy, fun and affordable, and will leave you with some unforgettable memories. Unlock our Smooth Rate and stay at The Originals Hotels at the best price!
Hiking in Switzerland: the majesty of nature
The Jungfrau-Aletsch zone of the Swiss Alps has been named a UNESCO World Heritage Site, and you'll soon see why. Choose from trails that offer views of the largest glacier in the Alps or paths that wind through 1000-year-old pine trees. With 300km of marked trails, this area has something to offer hikers of all levels.
Stay at the cosy Hotel & Apartments Kirchbühl, The Originals Collection where hearty local cuisine will greet you after a day on the trails. Don't miss the roasted foie gras or the goat's cheese soup!
Hiking in Austria: a taste of the wilderness
Think that Europe doesn't have any truly wild landscapes left? Think again! The 125-km Lech River Trail follows the river through the wilderness, gradually moving downhill past natural water springs, spectacular gorges and wild alpine ibex colonies. Completing the entire trail will take you six to eight days, but it is divided into fifteen stages so you can do a smaller section if you wish.
The nearby Hotel Stäfeli, The Originals Collection is ideal for weary hikers. The wood-beamed rooms are light and airy, and the massive selection of wines is just the thing if you want to unwind.
Hiking in Italy: pastures and pilgrims
Carnia, in Northern Italy, is a great spot for hiking adventures. Go in September and you might spot pilgrims on the way to Austria, taking their traditional trip to the village of Maria Luggau. Many trails in the Dolomites region will take you past sleepy pastures of grazing cows, but there is also spectacular scenery to behold. Try hiking the Vinadia canyon and admiring the beautiful waterfalls.
Chalet-Hotel Borgo Eibn Mountain Lodge, The Originals Relais offers a warm welcome to the Dolomites. These traditional chalets will make you feel right at home in the mountains.
Hiking in France: family fun in summer
French families flock to the Savoie region in the summertime. Here, many of the trails are child-friendly, allowing you to give your kids their first taste of hiking. Try Le Circuit des Chèvres, a simple walk with interesting wooden statues to admire, or Le Sentier des Tétards, which gives you the chance to enjoy a lakeside picnic.
Stay at Chalet-Hotel Le Labrador, The Originals Relais. Enjoy a dip in the pool or, if your muscles ache after a day on the trails, head straight to the wellness centre for a soothing massage!
End Of Article
1
HOTELS SELECTED FOR YOU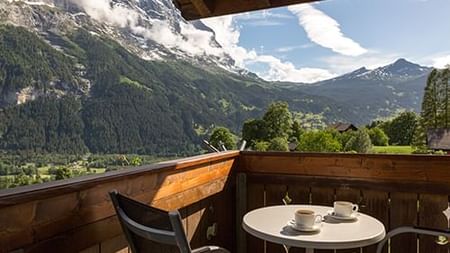 Grindelwald , Switzerland
Hotel & Apartments Kirchbühl,
The Originals Collection

(Relais du Silence)

Kirchbühlstrasse 23, 3818 Grindelwald See on map
WiFi

Free hotel car park

Pets admitted

Restaurant