Top things to do in Fontainebleau
Top things to do in Fontainebleau
Looking for things to do in Fontainebleau? With its beautiful woodlands, spectacular castle and gorgeous gardens, this city has something for the whole family. Read The Originals Hotels' guide and find the best that Fontainebleau has to offer. Unlock our Smooth Rate and stay at The Originals Hotels at the best price!
Visiting the castle
The Château de Fontainebleau is one of the biggest royal palaces in France, and has housed kings and emperors. Inside, there are four museums, art galleries and three chapels to admire. Some royal apartments are also open to the public, as well as the gardens - so be sure to put aside a full day to visit this, the finest of all the Fontainebleau attractions!
The stunning landscaped gardens can easily take up half your visit. There are dozens of different gardens, artificial rivers, and a lakeside pavillion.
Exploring the forest
Take a walk on the wild side! The enchanting forests around Fontainebleau will delight young and old. Of course, you could just go walking in the woods - but there are dozens of other activities available if you want to try something special. Guided walks will ensure that you don't miss any hidden corners along the way.
Children will love donkey treks or sled dog rides through the forest. Thrill-seeking adults can try their hand at bouldering, with classes for all levels available.
Other attractions in Fontainebleau
While the forest and the castle are the big draws, there's plenty more to hold your interest during your visit. The National Gendarmerie Museum outlines the history of France's famous police force, and is ideal for both curious kids and interested adults.
Of course, don't miss the local cuisine. This part of France is best known for brie and other soft cheeses, so feel free to indulge! You'll be surprised by the sheer number of different types of on offer, each with their own unique character
Finding a hotel near Fontainebleau
For Fontainebleau accommodation, try The Originals Boutique, Hotel Victoria, Fontainebleau. In the heart of the town itself, this charming hotel has period furniture and marble fireplaces, to transport you back to years gone by.
Alternatively, stay at The Originals Residence, Demeure des Remparts, Provins. This hotel is found in the historic, medieval town of Provins. It has a full spa where you can relax after a day of fun in the forest!
Combine Fontainebleau with a trip to the capital at The Originals City, Hotel Paris Sud, Orly-Draveil. This is a charming, modern hotel with great transport connections.

End Of Article
1
HOTELS SELECTED FOR YOU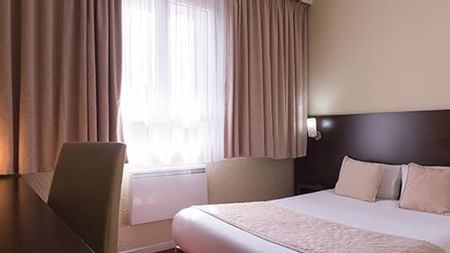 Draveil , France
The Originals City,
Hotel Paris Sud, Orly-Draveil

(Inter-Hotel)

46, avenue de Bellevue, 91210 Draveil See on map
WiFi

Free hotel car park

Garage

Bar
Subscribe to our newsletter to receive our latest offers
SUBSCRIBE