Unwind on the idyllic Île de Ré on France's exquisite Atlantic Coast
Unwind on the idyllic Île de Ré on France's exquisite Atlantic Coast
Well-loved by Parisians for its tranquil, timeless atmosphere, the Île de Ré has been dubbed the "Atlantic St Tropez" by the French press. However, it is far more relaxing than any typical Provençal break, thanks to its lip-smacking cuisine and chic-yet-cosy atmosphere. Discover the island's Ré of sunshine with a stay at Les Vignes de la Chapelle.
Unlock our exclusive offers and get the best booking deal at The Originals Hotels website!
What to do in Île de Ré
This sunny summertime respite for Parisians flocking through La Rochelle is an oasis of traditional, white-washed fishing cottages and pretty, sand-dusted cycling trails. It offers the ultimate blend of relaxation and coolness, where you may just spot French cinematic royalty dining out at perfectly set courtyard tables. The quay at Saint-Martin-de-Ré is its jovial centre, boasting unbeatable food on bustling market squares. When it comes to attractions, Saint-Martin's old city walls provide gorgeous island views and a snapshot of centuries-old life on the island. Take the 117 steps up the Clocher Observatoire for the most impressive panoramic vistas.
Leaving Île de Ré's history for just one moment, the island requires a bicycle or kayak to get into the local spirit. Rent a pair of wheels from Les Vignes de la Chapelle and traverse the cobblestone roads for dusty paths to Le Bois-Plage and Plage des Gollandières, golden shorelines that glisten in the Atlantic sun. Other paths lead northwest to the island's tip, through impressionist corn fields to Phare des Baleines, a 19th-century lighthouse with sweeping coastal views. The whole island is loaded with delightful cycle (or driving) excursions, from the romantic ruins of Cistercian Abbaye des Châteliers to Ecomuseum Marais Salant.
Book a hotel on Île de Ré
Of all the places to stay on Île de Ré, Les Vignes de la Chapelle is the most delightful. Located in the traditional town of Sainte-Marie-de-Ré, it is like stepping back in time to that perfect childhood summer holiday. Delightful beaches and a laidback vibe become even more palpable when night falls. Les Vignes de la Chapelle itself is bucolically set in a soft, green landscape of vineyards and pine trees. Guests are treated to a shining inner courtyard as the base for fine breakfasts and lazy afternoon drinks. You can relax in the swimming pool overlooking the sea or simply head directly to the coast and watch bay boats bob in the sunset.
Book an unforgettable bed & breakfast on Île de Ré with a stay at Les Vignes de la Chapelle.
1
HOTELS SELECTED FOR YOU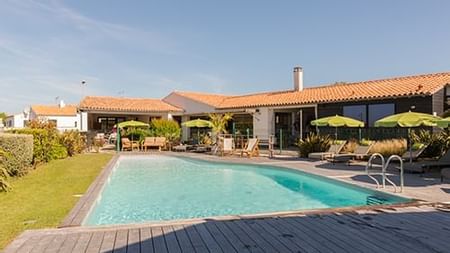 Sainte-Marie-de-Ré , France
Les Vignes de la Chapelle,
The Originals Relais

(Relais du Silence)

5, rue de la Manne, 17740 Sainte-Marie-de-Ré See on map
WiFi

Bycicle premises

Fee-paying hotel car park

Electric vehicle charging station
Subscribe to our newsletter to receive our latest offers
SUBSCRIBE