Weekend getaway to Jura Mountains
Weekend getaway to Jura Mountains
If you love hiking and winter sports, then we have a treat for you. The Jura Mountains straddle France and Switzerland and offer some of Europe's most outstanding landscapes. If you like outdoor activities, you're spoilt for choice with hiking, cycling, skiing and more. And if you prefer the quiet life, the scenic beauty will soothe your spirits. Read on for our recommendations on what to do in Jura, plus some great places to stay.
Unlock our mountain experience and discover more with The Originals Hotels!
A breath of mountain air
Jura is just north of the Western Alps. It's a mountainous region, so you're well provided with opportunities for skiing, snowboarding and other winter sports. In the warmer months, it's a perfect spot for hiking. You can trek the high mountain trails like the Col de la Faucille, or wander down to Lake Geneva for some tranquillity. Or why not explore the area on two wheels? You can stay in the valleys if you don't fancy cycling the hill climbs!
Jura also offers some of the most glorious mountain settings for golf. You'll find a number of high altitude courses around Mijoux and other locations. So you can practice your swing at 1000m!
Other things to do in Jura
You don't have to be sporty to enjoy Jura. The region has a wealth of other activities, not least wine tours. Visit Château-Chalon the birthplace of vin jaune, or the small Arbois vineyards, where wine-making goes back to Roman times.
For a bit of fun, try visiting the toy museum at Moirans-en-Montagne. It's great for kids of all ages. Ever wondered about pipe manufacturing? Then you should take a trip to Saint-Claude, the world capital of the briar-wood pipe. And there's much more, like the Royal Saltworks of Arc et Senans, a UNESCO world heritage site since 1982.
Accommodation in Jura
Near Geneva, you can find Hotel Porte de Genève, The Originals City. With the Alps as a backdrop, nature and pure air, this 3 star hotel will offer you a memorable stay around the mountains.
If you are a mountain lover, there's so much to do in Jura! So why not book today and get a taste of mountain life?
1
HOTELS SELECTED FOR YOU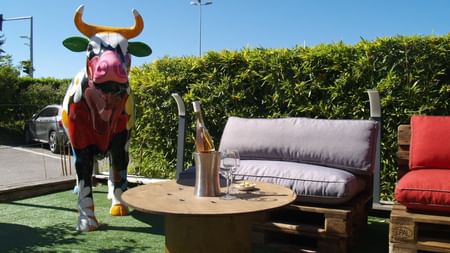 Gaillard , France
The Originals City,
Hotel Porte de Genève, Annemasse South

(Inter-Hotel)

4, rue René Cassin, 74240 Gaillard See on map
WiFi

Bycicle premises

Air-conditioned room

Free hotel car park
Subscribe to our newsletter to receive our latest offers
SUBSCRIBE