What to do in the Loire near Hotel Auberge du Moulin à Vent
What to do in the Loire near Hotel Auberge du Moulin à Vent
Explore France's resplendent Loire Valley with a stay at the delightful Auberge du Moulin à Vent. This bucolic landscape of tranquil greenery and photogenic vineyards is home to fairytale chateaux. Read on to learn about what to do in the Loire Valley on your romantic Originals Hotels stay.
Book now and take advantage of our special offer to enjoy a beautiful stay at a very low price!
What to do in the Loire Valley, France
Refined landscapes and charming, stone-built villages make for ideal weekend breaks in the Loire Valley. From rural heartlands in the dreamy Orne department, you're just over an hour's drive through scenic countryside to the snaking Loire River. From Orne, you can take in the sights of medieval Chartres. For what to do in Chartes, head to Cathédrale Notre-Dame, an imposing Gothic cathedral dating from the 13th century.
Orléans is a fine hub overlooking the flowing Loire, offering fun boat trips and wine tours through surrounding vineyards. Pinot Meunier is the regional speciality and well worth a taste at the pretty Rose & Léon. While the Loire's chateaux and gardens, like Chenonceau, rightly draw the crowds, don't overlook the region's Plantagenet history in Chinon.
Explore Perche Natural Regional Park
The pleasant Perche Natural Regional Park surrounds the grounds of Hotel du Moulin à Vent. Picture-postcard towns like Mortagne-au-Perche, Bellême and La Perrière provide restful solace as you navigate a romantic region off the tourist path. Explore centuries-old fortifications of Chateau Saint-Jean or sample tasty Perche Cidre, one of the latest drinks to achieve AOC status.
Perche is a pristine protected parkland bursting with natural beauty. From the Lake of the Benette to the Humide Forest of the Mousseuses and Chêne de l'Ecole, there are plenty of romantic trails to hike and sumptuous natural sights to see. Horses are the best method of exploring this landscape, whether riding or pulled by the famed Percheron horse-drawn carriage. When you're done exploring, dine on fresh regional produce like Les Capri'Scieuses goat's cheese or traditional boudin noir.
Explore a hidden pocket of Lower Normandy with a stay at Auberge du Moulin à Vent. This delightful hotel nestled in the charming Perche natural park boasts verdant valley views and hilly forest trails from its doorstep. Book restful weekend breaks in the Loire Valley with Originals Hotels.

1
HOTELS SELECTED FOR YOU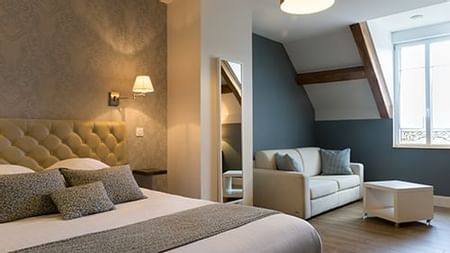 Manou , France
Auberge du Moulin à Vent,
The Originals Relais

(Relais du Silence)

23, chemin du Moulin à Vent, 28240 Manou See on map
WiFi

24h access by automatic teller

Bycicle premises

Free hotel car park
Subscribe to our newsletter to receive our latest offers
SUBSCRIBE