Winter Holidays in Ile-de-France
Winter Holidays in Ile-de-France
Ile de France is, in many ways, the heart of France. It centres on Paris, which features many architectural and cultural wonders. The capital is not the only attraction, and the region has beautiful rivers and forests that can appeal at any time of year. We've put together a few highlights to inspire you for a winter break, along with some top tips for accommodation.
Unlock our short break offer and enjoy a memorable stay with The Originals Hotels!
Winter holidays in Ile de France
Mention winter holidays in France, and most people think of skiing or snowboarding in the Alps or Pyrenees. Nature in France is diverse, and some of the less mountainous regions can be just as enchanting in the cooler months.
In the Ile de France, places to visit are not limited to the big city. While Paris is at the centre of the region, the outer parts are largely rural, with some beautiful natural woodland and forests. These can offer especially relaxing walking routes for hikers in the winter months. They're also crisscrossed by waterways, which offer appealing riverside walks.
The tributaries of the river Seine have rich histories in themselves. The Marne, for example, is a fascinating location for WW1 historians. Meanwhile, the Epte is known for Monet's famous Waterlilies, which depicts a spot situated on a diverted branch of the river.
Other things to do in Ile de France
In the Ile de France, activities also extend to some much more famous tourist attractions. They can be quieter in winter, so it's a good time to visit. The former royal palaces of Versailles and Fontainebleau have extraordinarily rich histories to explore. Their enormous buildings and gardens could keep you occupied for days!
For children of all ages, there's also Disneyland Paris, one of Ile de France's most popular destinations. As well as theme parks, it's also home to shops, restaurants, golf and other entertainments.
Where to stay
Hotel Saint-Laurent, The Originals Relais is just to the west of Paris, and very close to Versailles. Its fifteen rooms offer elegance, charm and tranquillity.
The Originals Boutique, Hotel Victoria, Fontainebleau has similar historic resonances, with cosiness and style. We also recommend The Originals City, Hotel Codalysa, a place of beauty and peace, yet admirably close to Disneyland Paris.

We hope we've offered you some useful suggestions for what to do in Ile de France in winter. If you're feeling inspired, why not book today?
3
HOTELS SELECTED FOR YOU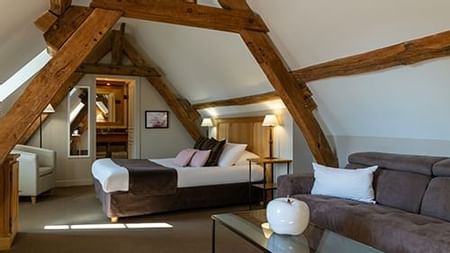 Montfort-l'Amaury , France
Hotel Saint-Laurent,
The Originals Relais 2 Place Lebreton, 78490 Montfort-l'Amaury
See on map
WiFi

Bycicle premises

Free hotel car park

Pets admitted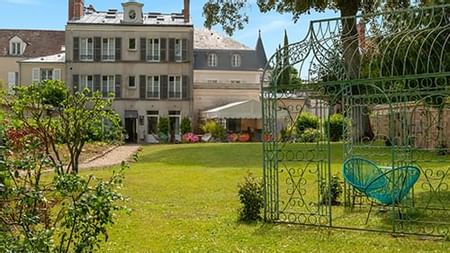 Fontainebleau , France
The Originals Boutique,
Hotel Victoria, Fontainebleau 112 Rue de France, 77300 Fontainebleau
See on map
WiFi

Bycicle premises

Pets admitted

Fee-paying hotel car park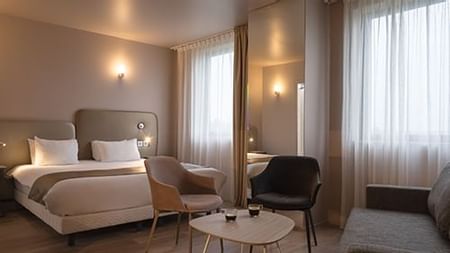 Torcy , France
The Originals City,
Hotel Codalysa, Torcy

(Inter-Hotel)

2, rue Charlie Chaplin, 77200 Torcy See on map
WiFi

Air-conditioned room

Pets admitted

Bar