Winter holidays in the Alps for adventure seekers  
Winter holidays in the Alps for adventure seekers  
If you love skiing and snowboarding, you'll find plenty of winter activities in the Alps to keep you busy. With the right hotel, it's easy to find your dream holiday. Book now your winter getaway with our smooth rate and benefit up to 30% discount*
The Alps for adventurers
There's nothing like winter sports in the Alps to perk you up in the middle of a dreary January. One of the most popular and exciting ski areas is around Isére. Here you'll find something to suit everyone, from absolute beginners to veterans of the slopes.
Isére also offers a fun Snowpark zone. If skiing's not your cup of tea, why not try snowboarding? In this area, you'll be able to show off your freestyle skills. Newcomers to the sport are always welcome, so don't worry if you spend more time wiping out than in the air.
Looking for a hotel for your ski trip? Hotel Villancourt, The Originals City in Grenoble South is conveniently located near the spectacular resorts of Isère and the natural park of the Vercors. You'll be able to head back in the evenings and warm yourself up, ready to get going again the next day.
The Alps for explorers
A winter trip to a lake may seem like an odd choice - but give it a go, and you'll enjoy an amazing adventure. Locals enjoy cycling around the outside of the lake, admiring the snowy landscape. There are charming, quaint villages nearby where you can stop and enjoy a steaming mug of hot chocolate.
The Alps for foodies
Looking for things to do in the Alps in winter? Eating must be high on your list! Don't miss out on the best Alpine dishes. If you've been working up an appetite on the slopes, then you deserve a treat. Remember, winter in the mountains is all about cheese. Try a hearty dish of tartiflette oozing with delicious raclette - and nothing beats a classic fondue.
The Alps to relax
Skiing not your thing? Don't worry. Taking a daily walk out in the mountains is just the thing if you want to relax. Let the serenity of the Alpine air fill you with peace, and you're sure to return home totally chilled.
Hotel Les Trois Roses, Grenoble Meylan, The Originals Boutique has a well-equipped fitness room if you want to let off steam. If you just want to chill, this gorgeous boutique hotel is full of charming, custom-made armchairs and couches, which will give your stay a personal twist.
There's something for everyone in the Alps, so don't miss out! Book your winter holiday today.
*Limited offer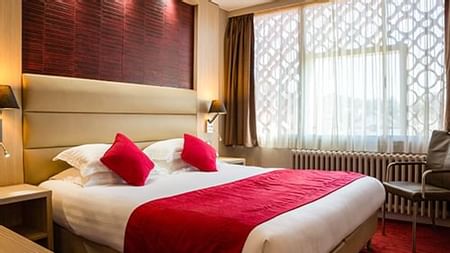 Corenc , France
The Originals Boutique,
Hotel Les Trois Roses, Grenoble Meylan

(Inter-Hotel)

32, avenue du Grésivaudan, 38700 Corenc See on map
WiFi

Air-conditioned room

Free hotel car park

Pets admitted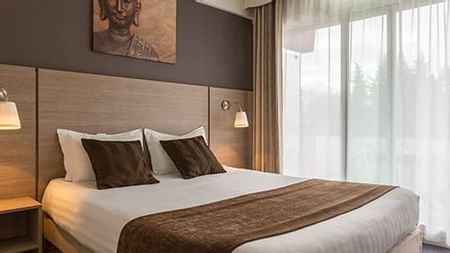 Le Pont-de-Claix , France
The Originals City,
Hotel Villancourt, Grenoble South

(Inter-Hotel)

98, cours Saint André, 38800 Le Pont-de-Claix See on map
WiFi

Bycicle premises

Air-conditioned room

Free hotel car park
Subscribe to our newsletter to receive our latest offers
SUBSCRIBE