Your alpine adventure in and around Chamonix
Your alpine adventure in and around Chamonix
Fresh air, greenery, and spectacular views - it's all waiting for you in the French Alps. Chamonix is best known as one of the world's top ski resorts, but at The Originals Hotels, we know that there's plenty to do here all year round. Read on to discover for yourself...
Unlock our Smooth Rate and stay at The Originals Hotels at the best price!
Visit the lakes and waterfalls
Many visitors to this region love to go hiking along the green trails. Choose one of the many stunning lakes as your destination. You could stop there for a picnic and spend a bit of time relaxing, surrounded by some of the most tranquil nature you will ever encounter.
The Bérard waterfall is easy to reach, just half an hour's walk from the charming hamlet of Le Buet. For a longer hike, head for Lac Blanc, found in the Aiguilles Rouges Nature Reserve. The mirror-like surface of this lake perfectly reflects the surrounding mountains, a truly breathtaking sight.

Explore the trails
There are thousands of kilometres of hiking trails in this area, with something for everyone. Beginners and families can visit La Floria, where you'll find a small dairy and cafe. A walk around the Gorges de la Diosaz is not too taxing, either but should be avoided if you have vertigo, as you will be close to some steep drops!
Experienced hikers can go deep into the Carlaveyron Nature Reserve, where your exertion will be rewarded with exceptional views. For something very challenging, try hiking the Plan de l'Aiguille trail, which will take you towards the glaciers and the Grand Balcon Nord. It's tough, but when you see the views, you'll be delighted!

Finding accommodation in Chamonix
Chamonix hotels book up fast in the ski season, so be sure to make your reservation early! The Originals Hotels has some of the best French Alps hotels, in authentic chalet style. Chalet-Hotel La Ferme du Chozal, The Originals Relais is ideal for anyone seeking luxury. With just 10 rooms and one suite, it offers an intimate, family-style environment in spectacular surroundings.

Chalet-Hotel La Chemenaz, The Originals Relais is a hiker's dream hotel. From this chalet-style building, it's easy to lose yourself in the mountains, with trails and footpaths all around. Then head back to the hotel for dinner in its cosy wooden restaurant - perfect!

You'll find more great French Alps accommodation at Chalet-Hotel Hermitage, The Originals Relais. This hotel has special suites for four or five people, making it ideal for families or large groups.

Book your hotel in the French Alps today,and enjoy a taste of the mountains!
1
HOTELS SELECTED FOR YOU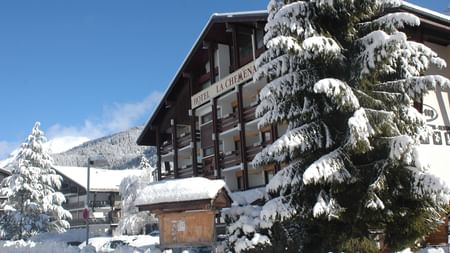 Les Contamines-Montjoie , France
Chalet-Hotel La Chemenaz,
The Originals Relais

(Hôtel-Chalet de Tradition)

10, allée du Nant Rouge, 74170 Les Contamines-Montjoie See on map
WiFi

Bycicle premises

Free hotel car park

Pets admitted
Subscribe to our newsletter to receive our latest offers
SUBSCRIBE