Your travel guide to Poitou Charentes 
Your travel guide to Poitou Charentes 
A popular destination since Roman times, Poitou Charentes offers an exciting mixture of history and nature. With everything from Napoleonic forts to a futuristic theme park, this coastal zone will keep you on your toes. Book now your getaway and get up to 30% discount for your accommodation with our Smooth Rate.
When to go 
You'll find Poitou Charentes tourism at its best in the summer months. The Atlantic coast is not known for its warm winters, so if you're planning to visit outside of summer, be sure to bring a coat! 
POITOU CHARENTES: BE INSPIRED 
Visit: Église Notre-Dame la Grande 
Explore: Fort Boyard by boat 
Experience: Cognac Blues Passion 
WHAT TO DO IN POITOU CHARENTES? 
Fort Boyard by boat: This imposing fort juts out of the sea near La Rochelle. Once used by Napoleon's armies, it became famous in the 1990s as the location of a game show. 
Futuroscope theme park: this futuristic amusement park is a must if you're looking for places to visit in Poitou Charentes with the kids. Rollercoasters and 3D cinemas will have the whole family thrilled. 
Boat trip to the Île de Ré: the historic lighthouse is exciting at any time of year, but the beaches are best visited in summer - if not, it can get chilly on the island! 
Cathedral: Église Notre-Dame la Grande, in Poitiers. The Romanesque architecture and stunning interior art sets this cathedral apart from others in France. 
International Film Festival in La Rochelle: this celebration of all thing's cinematic takes place each summer and gives you a chance to see films from all over the world. 
Live music at Cognac Blues Passion. A summer regional highlight, this outdoor festival attracts some seriously big international names. 
WHAT TO VISIT IN POITOU CHARENTES? 
There are plenty of great places to visit in Poitou Charentes. Depending on the type of holiday you're looking for, you may want to include these towns in your itinerary: 
Poitiers: is great for any fans of history and architecture. The beautiful Romanesque church, cathedral, and enormous palace are all worth visiting. 
La Rochelle: has charming medieval houses lining its streets and a lively harbour. An aquarium and great beaches make it a popular spot to take the kids. 
Cognac: is best known for its world-famous liquor. You can go on a tasting tour here, or just admire the royal castle. 
Niort: near you'll find one of the most beautiful parks in the region, the Marais Poitevin. Visit these scenic marshlands to spot birds. 
Saintes: old Roman architecture can be found in here. The arch and Amphitheatre are both exceptionally well preserved. 
THE BEST RESTAURANTS IN POITOU CHARENTES 
As with any destination in France, Poitou Charentes has a great deal to offer any keen gourmet. This is a coastal region, so it's particularly known for its seafood. 
Andre in La Rochelle is a local favourite. This seafood restaurant is found right on the quayside and offers delicious shellfish. 
Prao, also in La Rochelle, specialises in ultra-fresh produce. There's no freezer here: instead, all the food is brought in fresh, ready for you to enjoy. 
Poulpette is one of the highlights of the Cognac dining scene. Here you'll find classic French dishes with a modern twist. 
Les Bons Enfants is a Poitiers institution. A wide-ranging menu has something for everyone. 
WHERE TO STAY IN POITOU CHARENTES 
The Originals City, Hotel Alteora, Poitiers Futuroscope Site: A stone's throw from the Futuroscope amusement park, this is ideal accommodation if you're travelling with kids. There are special family rooms, and it has a great swimming pool. 
Les Vignes de la Chapelle, The Originals Relais: For blissful relaxation on the Île de Ré, it's hard to beat this boutique eco-hotel. The wellness centre, with a sauna, jacuzzi and massages, is perfect if you need to disconnect. 
The Originals Access, Hotel Recouvrance, Saintes West: This friendly hotel offers a warm welcome to anyone visiting Saintes. The home-baked goodies at the breakfast buffet are an ideal way to start your day.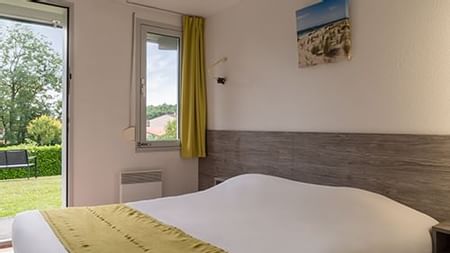 Saintes , France
The Originals Access,
Hotel Recouvrance , Saintes West

(P'tit Dej-Hotel)

3, boulevard de Recouvrance, 17100 Saintes See on map
WiFi

24h access by automatic teller

Air-conditioned room

Free hotel car park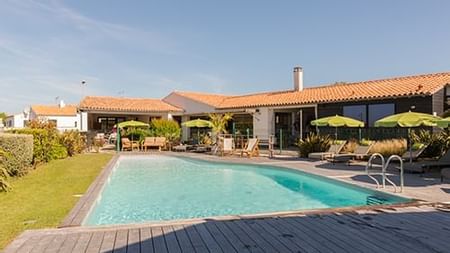 Sainte-Marie-de-Ré , France
Les Vignes de la Chapelle,
The Originals Relais

(Relais du Silence)

5, rue de la Manne, 17740 Sainte-Marie-de-Ré See on map
WiFi

Bycicle premises

Fee-paying hotel car park

Electric vehicle charging station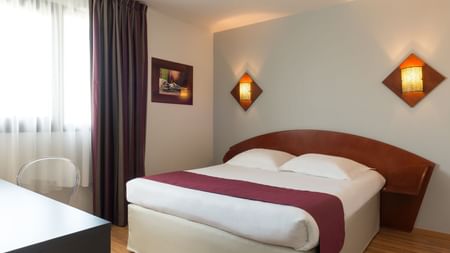 Chasseneuil-du-Poitou , France
The Originals City,
Hotel Alteora, Poitiers Futuroscope

(Inter-Hotel)

Avenue du Futuroscope, 86360 Chasseneuil-du-Poitou See on map
WiFi

Fitness room

24h access by automatic teller

Air-conditioned room
Subscribe to our newsletter to receive our latest offers
SUBSCRIBE