A perfect picnic in the Dordogne
A perfect picnic in the Dordogne
Restaurants closed because of covid? Don't worry! At The Originals Hotels, we know exactly how to picnic in France. Check out our guide to your Dordogne picnic, and enjoy an outdoor lunch. Unlock our Smooth Rate and stay at The Originals Hotels at the best price!
The best picnic spots in the Dordogne
One of the most charming places to stop for lunch is La Roque Gageac, which offers some of the best views in the Dordogne. This picturesque village has cobblestone paths winding between old stone buildings and offers views of immense limestone cliffs as well as the lazily winding river.

More great viewpoints in the Dordogne can be found in Domme, a fortified town that offers panoramic views of the valley. From up here, the entire valley stretches below you, giving you the chance to soak up a breathtaking landscape as you enjoy your lunch.

The weird and wonderful Marqueyssac gardens have enchanted visitors to the Dordogne for centuries. The intriguing topiary looks like something from a fantasy landscape, making it the perfect backdrop for a quirky picnic.

How to have a French style picnic

No Dordogne picnic would be complete without some local delicacies! Foie gras is a speciality of the region, served with fresh walnut bread. If you'd rather not partake, don't worry: you can still enjoy some of the rich cheeses. Rocamadour is a young goat's cheese that is delicious with salad, while Bleu des Causses is a firm, spicy blue reminiscent of Roquefort that goes well with crusty bread.

Follow your main course with some exquisite local strawberries, and wash it down with a regional drink. The Dordogne has some excellent wines but, for something different, why not try a craft beer?

Where to stay in the Dordogne

For an urban environment, stay in The Originals City, De Bordeaux Bergerac. The rooms themselves have a rustic charm, but this hotel is located in the heart of Bergerac. You can spend some days exploring this charming town, and others venturing into nature for your picnics.

For those who prefer to get away from it all, we recommend Le Relais de Castelnau, The Originals Relais. In the tranquil village of Loubressac, this stunning hotel allows you to really immerse yourself in nature.

Le Moulin de Mitou, The Originals Relais is set in a seventeenth-century mill. This restored building, with its charming buttercup exterior and quaint shuttered windows, is the perfect choice for a romantic getaway. Wherever you choose to stay, let The Originals Hotels make sure your Dordogne holiday is everything you've dreamed of!
1
HOTELS SELECTED FOR YOU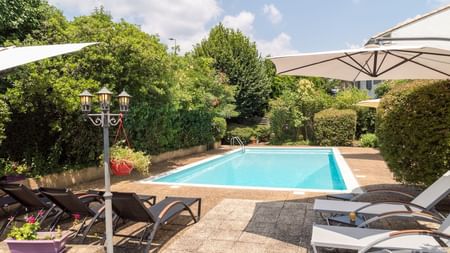 Bergerac , France
The Originals City,
de Bordeaux Bergerac (ex Inter-Hotel)

(Inter-Hotel)

38 Place Gambetta, 24100 Bergerac See on map
WiFi

24h access by automatic teller

Bycicle premises

Air-conditioned room
Subscribe to our newsletter to receive our latest offers
SUBSCRIBE