Amazing gardens near Paris you can't miss
Amazing gardens near Paris you can't miss
So many visitors cut their trip to the City of Lights short - but we at The Originals Hotels think it's better to take your time and really get to know Paris. These gardens around the city will let you discover a side of Paris that most travellers never see. Unlock our Smooth Rate and stay at The Originals Hotels at the best price!
Palace of Versailles Gardens
In the 17th century, Louis XIV ordered the development of these stunning gardens. Today they're still one of the best places to go around Paris. Beautifully manicured lawns, fountains and more can be found here, across 800 hectares of land.
Don't miss the Orangery, packed with fresh citrus trees in spectacular architectural surroundings.
Le Parc de la Vallée-aux-Loups, Châtenay-Malabry
Another of the best gardens near Paris, this is a real hidden gem. At just 13.5 hectares, it is often overshadowed by larger parks - but it's well worth a visit. Charming bridges criss-cross the pond and island, making it ideal for a stroll.
There are over 2500 plants here, divided between twelve distinct gardens. The fruit garden, English garden and chestnut garden all contain fascinating examples of rare plants, but the incredible hydrangea garden is truly the jewel in the crown.
Parc du Pré Saint-Jean
Where can you find the best views of Paris? The lookout point in this park is one of the best places to visit near Paris if you want to see a spectacular city panorama.
This is a popular spot for locals to practise sports. Don't want to work up a sweat? Relax, it's also ideal for taking a walk or having a picnic overlooking the city.
Where to stay around Paris
The Originals Boutique, Hotel Maison de l'Abbaye is ideal for visiting the Parc de la Vallée-aux-Loups, as well as picking up fresh produce at the charming Antony Market. The gentle melody of the hymn practice at the neighbouring abbey is the perfect way to wake up.
To stay near Parc du Pré Saint-Jean, try The Originals City, Le Cardinal Rueil Centre. The African-themed rooms add an exotic touch to this charming hotel.
Right in the heart of the city, The Originals City, Hotel Lecourbe, Paris Eiffel Tower is a cosy hotel with a generous buffet breakfast. It allows you to explore Paris quickly and easily.

End Of Article
1
HOTELS SELECTED FOR YOU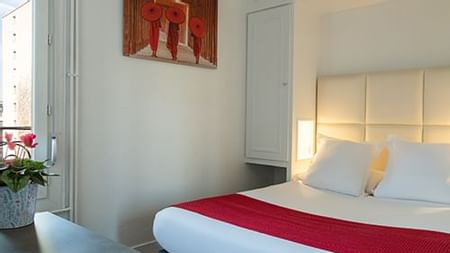 Paris , France
The Originals City,
Hotel Lecourbe, Paris Eiffel Tower

(Inter-Hotel)

28, rue Lecourbe, 75015 Paris See on map
WiFi

Pets admitted

Lift

Night porter
Subscribe to our newsletter to receive our latest offers
SUBSCRIBE