Charming romantic getaways in south of France for couples
Charming romantic getaways in south of France for couples
The south of France makes the perfect place for a couple's adventure you won't forget. Enjoy some of the magic of the world's most romantic country with The Originals Hotels' top picks. Unlock our Smooth Rate and book your romantic accommodation at the best price!
The maritime charms of Rochefort
When Rochefort was developed in the 17th century, King Louis XIV decreed that the dockyard had to be the most beautiful in the world. Take a stroll through the stunning Arsenal Quarter and you'll see for yourself that the king's wish was fulfilled.
For one of the best south of France romantic getaways, use Rochefort as your base to explore the Charente Estuary, with its charming islands and sandy beaches.
Gorgeous architecture in Angoulême
The Angoulême Cathedral dates back to the 12th century and is known for its unique Romanesque style. It dominates the centre of this town, where you'll find a number of charming old buildings to admire.
Of course, there's nothing more romantic than sleeping in a castle, so book yourself into the Château de Nieuil, The Originals Collection. France's first castle hotel, it has been welcoming guests since 1937, but the estate once belonged to King François I.
Enjoy nature in Auriac-du-Perigord
A great choice for south of France holidays for couples, Auriac-du-Perigord is ideal if you want to indulge your adventurous side. Go hiking in the verdant countryside, or rent a boat and explore the Vézère River. What could be more romantic than a kayak built for two?
Enjoy an island getaway in Saint-Trojan-les-Bains
If your holiday isn't complete without a spot of sunbathing, then head for Plage de Gatseau. This relaxing beach is on the south of the island of Oléron, and is the perfect spot to lounge and get away from it all. You can also take the famous little train of Saint Trojan for a quaint, unique way to explore the island.
Have an action-packed weekend in Royan
Still not sure where to stay in the south of France for couples? If you and your partner can never agree on what to do, then try Royan! Here you'll find great architecture in the form of the Église Notre-Dame, beautiful beaches like La Grande Conche, and a spacious food market to explore. This seaside town offers something for everyone.
Résidence de Rohan, The Originals Relais is nestled near the beach and the pine forests, and will give you easy access to all the sights of the surrounding area.
End Of Article
1
HOTELS SELECTED FOR YOU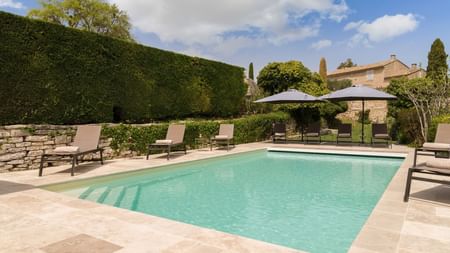 Gordes , France
Mas des Romarins,
The Originals Relais

(Relais du Silence)

Route de Senanque, 84220 Gordes See on map
WiFi

Bycicle premises

Air-conditioned room

Free hotel car park
Subscribe to our newsletter to receive our latest offers
SUBSCRIBE