Choose the perfect hotel for a memorable family holiday in La Rochelle 
Choose the perfect hotel for a memorable family holiday in La Rochelle 
Planning to whisk the kids away to France? There's plenty to do in La Rochelle with kids, and The Originals Hotels will ensure your stay is a great one. Choose a your favorite hotel, book it with our family offer and prepare to fill your days with fun activities. 
Your La Rochelle family holiday 
This Atlantic city is ideal for a summer break, when the sea is at its best and the beaches are most enjoyable. During the warmer months, you and your kids will be able to have fun on the Plage Chef de Baie or visiting the spooky, creativity-sparking Lighthouse at the End of the World. A relaxed stroll through the green surroundings of the Charruyer Park is a great way for the whole family to recharge your batteries. 
Bad weather? No problem! La Rochelle has some great indoor attractions, too. The Natural History Museum has fascinating animal exhibits that will inspire any young would-be scientist. Be sure to leave plenty of time to visit the La Rochelle Aquarium. This enormous attraction has over 3 million litres of water, all of it teeming with life 
Family friendly hotels to stay in La Rochelle 
Hotel Le Beaulieu, The Originals Access is in the quiet, peaceful surroundings of the La Rochelle East area. This allows you to divide your time between the city and the nearby countryside, including a boat trip to the historic Fort Boyard. 
Finally, if you really want some La Rochelle family accommodation that's off the beaten track, head to Les Vignes de la Chapelle, The Originals Relais. This charming hotel is set on the island of Ile de Ré, surrounded by the beauty of nature. Its swimming pool will allow you all to splash around and have some fun on quieter days. 
When you want to spend your family holiday in La Rochelle, do it with The Originals Hotels. You and your kids will enjoy an unforgettable adventure.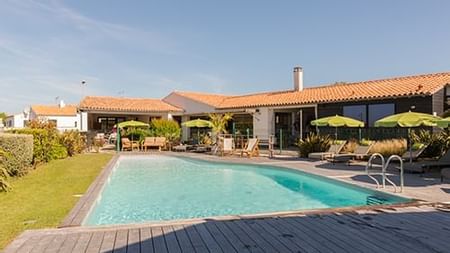 Sainte-Marie-de-Ré , France
Les Vignes de la Chapelle,
The Originals Relais

(Relais du Silence)

5, rue de la Manne, 17740 Sainte-Marie-de-Ré See on map
WiFi

Bycicle premises

Fee-paying hotel car park

Electric vehicle charging station
Subscribe to our newsletter to receive our latest offers
SUBSCRIBE