Enjoy a delicious French Breakfast with views.
Enjoy a delicious French Breakfast with views.
The Originals Hotels offer you a morning treat with a delicious French Breakfast.
If you're in Paris on business, start your day well with a delicious French breakfast. The best croissants and baguettes are always available in Paris. You also need the right setting to prepare yourself for a day's work. We've got some great hotels offering the utmost in comfort, stunning views and a delicious breakfast to start your day with energy. Unlock our bed & breakfast offer and enjoy a tasty moment!
Business breakfast in Paris
It's said that breakfast is the most important meal of the day. The French take their breakfast very seriously, so you can expect a treat! A good breakfast, from your room or the breakfast bar, prepares your body and mind for the work ahead and at The Originals Hotels we take care of everything.
What's in a French breakfast?
The typical breakfast in France features freshly baked goods. Of course, there are croissants and other viennoiseries. Pain au chocolat, pain aux raisins, chouquettes and more: this is not just fuel! These treat the soul as well as the stomach.

Enjoy a freshly baked baguette with fresh butter and jam or chocolate spread. For something a bit more substantial, add some cheese and ham. Omelettes or scrambled eggs will also give you a bit of brain food.
To drink, hot chocolate or coffee (café au lait or black, as you prefer) are traditional. You can also take a tisane (herbal tea) or freshly squeezed orange juice. Let's not forget a little fresh fruit, or, if you want to be really French, some radishes!
Hotels in Paris: where to stay
Paris is a great city for business and breakfast and we've got a couple of recommendations right in the centre of the city perfect for both.
The Originals Boutique, Hotel Maison Montmartre, Paris offers comfortable rooms and suites that are ideal work bases. The stunning views of Montmartre and Sacré Coeur provide a perfect backdrop for the breakfast area and you can choose from a range of traditional French breakfast treats.
Le Marais is a historic district of Paris, renowned for its restaurants. If you're after a hotel with good breakfasts, this is a great area to stay. The Originals Boutique, Hotel du Vieux Saule, Paris le Marais is centrally located and has super facilities for business, including a fully equipped breakfast basement.
When working from a hotel, at The Originals Hotels, you can enjoy both business and pleasure with a really good French breakfast to start your day!

2
HOTELS SELECTED FOR YOU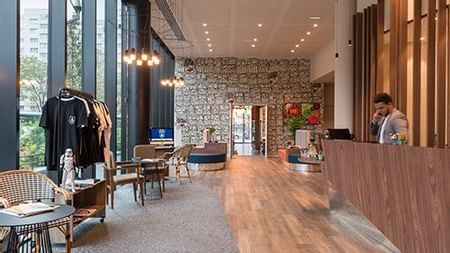 Paris , France
The Originals Boutique,
Hotel Maison Montmartre, Paris 32 Avenue de la Porte de Montmartre, 75018 Paris
See on map
WiFi

Pets admitted

Fee-paying hotel car park

Restaurant
Paris , France
The Originals Boutique,
Hotel du Vieux Saule, Paris le Marais

(Qualys-Hotel)

6, rue de Picardie, 75003 Paris See on map
WiFi

24h access by automatic teller

Air-conditioned room

Pets admitted
Subscribe to our newsletter to receive our latest offers
SUBSCRIBE