Enjoy a tranquil stay by the Loire in Saumur
Enjoy a tranquil stay by the Loire in Saumur
Resting on the iconic Loire River, Saumur is one of the region's best-kept secrets. This birthplace of the famous Coco Chanel and its storied streets make an idyllic weekend getaway enveloped by tasty food and wine. Book a short weekend break in the heart of Saumur and explore a town rich with art and history.
Unlock our exclusive offers and get the best deal when booking at The Originals Hotels website!
Things to do in Saumur, France
Boasting an evocative medieval centre, Saumur's cobblestone streets wind to the town's pulsating heart, Place Saint-Pierre. This colourful, medieval centre is crowned by the stunning Église Saint-Pierre, a resplendent white church with gorgeous interiors. Dotted around this picture-postcard centre are countless taverns and bistros serving up delectable Anjou cuisine. However, the town's crowning jewel is the Château de Saumur. The Saumur Castle in France is one of the Loire Valley's most photogenic. Fairytale turrets tower from a bluff above the town, providing dazzling views across the Loire.
Explore Saumur's history at the town's chateau before uncovering its rich equestrian heritage. One of the world's most famous riding schools, Cadre Noir, is found here, and its culture runs deep. You can tour the vicinity and watch elite riders in training. The Cavalry Museum explores this in historical detail, or you can get active with horse-riding sessions in the bucolic Loire Valley. While the town historically trained horses for France's war effort, it was also the site of modern conflict. Wander among historic military vehicles at the child friendly Musée des Blindés.
Book hotels in Saumur, France
Saumur's surroundings make it an ideal base in the Loire Valley. This is a rich wine country with plentiful vineyards to sample. The sparkling winemakers Gratien & Meyer provide impressive tours of Art Deco facilities while the lower-key Langlois-Chateau come highly recommended. Then, there are historic attractions like the tranquil Fontevraud Abbey, an important 12th-century abbey complex and resting place of the Plantagenets. For those on a chateau-ticking quest, the delightful Château de Montsoreau and Château de Brézé are both nearby.
Hôtel Le Londres is situated at the heart of Saumur and is the oldest continually operating hotel in the town. Its historied interiors provides a restful setting with spa treatments and an impressive conservatory restaurant. The towering conservatory is formed by an original Eiffel structure and serves up delectable local produce and appetising crémant de Loire.
The Spa Hôtel Anne d'Anjou shows off its elegant listed façade below the château, facing the Loire.The hotel offers 41 renovated rooms and four-star services, including a nearby partner restaurant, swimming pool, jacuzzi and wellness treatments.
Book your dreamy Loire weekend with The Originals Hotels!
2
HOTELS SELECTED FOR YOU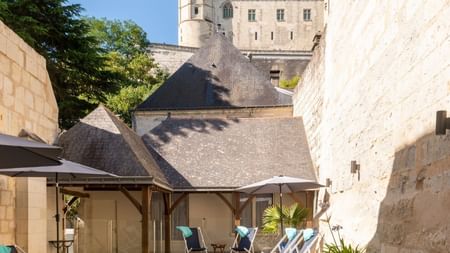 Saumur , France
Anne d'Anjou,
The Originals Collection 32 Quai Mayaud, 49400 Saumur
See on map
WiFi

Bycicle premises

Air-conditioned room

Pets admitted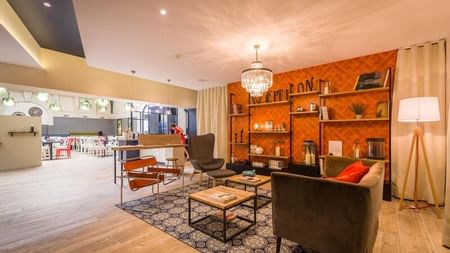 Saumur , France
The Originals Boutique,
Hotel Le Londres, Saumur

(Qualys-Hotel)

48 Rue d'Orléans, 49400 Saumur See on map
WiFi

Bycicle premises

Air-conditioned room

Pets admitted
Subscribe to our newsletter to receive our latest offers
SUBSCRIBE