Enjoy the luxury of a hotel and the freedom of an apartment
Enjoy the luxury of a hotel and the freedom of an apartment
Hotels can offer you great comfort and service, but sometimes you need the flexibility of an apartment. The Originals Residence range of serviced apartments offers you the best of both worlds. What's more, we have accommodation in some great locations throughout France! Read on to discover more about our aparthotels in France.
Unlock now our smooth rate offer and enjoy a memorable stay at the Originals Hotels!
Freedom and comfort
Aparthotels combine comfort with freedom. With a serviced apartment, you can prepare your own food and drinks easily. If you want to receive guests while away from home, a serviced apartment gives you all the independence you need. You also have more room to work, rest or play!

Serviced apartments throughout France
Aparthotels are a great way to stay independently in urban centres. Take a look at our serviced apartments in Lyon for example. The Originals Residence, Hotel Westlodge, Lyon North offers you convenience and modernity, with a welcoming touch. There are so many things to do in Lyon. Food lovers can sample all the best of traditional local cuisine in the 'bouchons Lyonnais. Or if you prefer the outdoors, the foothills of the Massif Central are not far away.
Another great option for serviced apartments in France is The Originals Residence, Demeure des Remparts, Provins. This practical and modern aparthotel has a gourmet restaurant and spa. The city's medieval architecture has gained its UNESCO heritage status. Plus, it's close to Disneyland Paris, which means it's a great stop for families. The hotel's services and facilities also make it perfect for business, and it's less than fifty miles from Paris itself.
Hotels for business or pleasure
Our aparthotels make a superb base for exploring France's more exotic locations. For a hotel in Antibes, for example, The Originals Residence, Les Strélitzias, Antibes on the Meditterranean coast has some of the most generous spaces of hotels in Antibes. The location is perfect for beach visits and coastal walks. It's not far from Cannes or Nice, if you have a hankering for a little sophistication!
We also have some top accommodation in the mountains. The Originals Residence, Kosy Appart'Hotels Grenoble Les Cedres is in the heart of the city. That means it's great for business, or for urban exploration and nightlife. Of course, it's close to some fantastic Alpine ski resorts.
Our aparthotels cover all tastes, so why not take a look and book today?
3
HOTELS SELECTED FOR YOU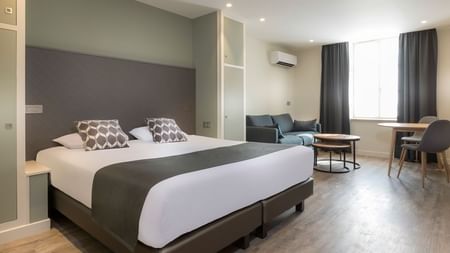 Provins , France
The Originals Residence,
Demeure des Remparts, Provins 13 Rue Saint-Jean, 77160 Provins
See on map
WiFi

Bycicle premises

Air-conditioned room

Free hotel car park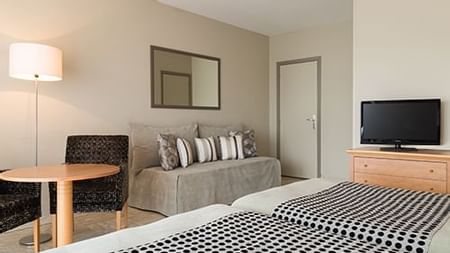 Antibes , France
The Originals Residence,
Les Strélitzias, Antibes 2 Rue Pierre Commanay, 6160 Antibes
See on map
WiFi

Fitness room

Air-conditioned room

Pets admitted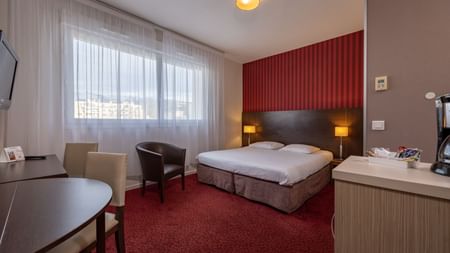 Grenoble , France
The Originals Residence,
Kosy Appart'Hotels Grenoble Les Cedres 13-15 Avenue Marcelin Berthelot, 38100 Grenoble
See on map
WiFi

Fitness room

Air-conditioned room

Free hotel car park
Subscribe to our newsletter to receive our latest offers
SUBSCRIBE