Explore the Brittany coast
Explore the Brittany coast
Escape to Brittany's iconic coastal spots or step off the beaten track to discover a whole new world. Enjoy pampered experiences in the best places to stay in Brittany with an Originals Hotel booking.
Book now and take advantage of our special offer to enjoy a beautiful stay at a very low price!
Stunning St-Malo and Brittany's Emerald Coast
Brittany's Emerald Coast stretches from dramatic St-Malo to the silent beauty of Cap Fréhel. Its sophisticated seaside towns and sweeping coastal vistas make it the perfect location for a family adventure. Stay in the heart of the action with one of the best beach hotels in Brittany. Grand Hotel de Courtoisville is a stately Belle Époque villa located on St-Malo's waterfront. Explore the port town's regal castles and breathtaking ramparts before settling into the hotel's warming spa and elegant dining room. Majestic ocean views and stunning interiors provide one of the best Brittany holidays by the sea.
Get up-close to the Finistère coast at Hotel de la Mer. The hotel boasts exceptional sea views with spa treatments sourced directly from its waters on Brittany's calming northwest shoreline. Each room is decorated in calming, nautical white and blue for a relaxed ambience. Nearby coastal trails are perfect for cycling and hiking to scenic points like Pointe de Pontusval. With day trips to Mont Saint Michel France, historical attractions are on your doorstep.
Explore the rocky coastline of Finistère
Finistère comes from the phrase "end of the Earth" and invites visitors to mysterious moors and craggy parks that overlook cove-laden shores. Pretty towns like Vannes, with its medieval old town and lush green parks, make idyllic centres for adventure. Padja Hotel & Spa is a modern oasis with Turkish baths and indoor swimming. The hotel is near the scenic Golfe du Morbihan, home to 40 tranquil islands with captivating castles, birdlife and Neolithic stones.
The islands of France make the ultimate holidays in Brittany. At France's westernmost metropolitan point, Ushant is part of an archipelago of exceptional beauty. Boasting chiselled reefs and quaint fishing cottages, Ushant is the embodiment of Brittany. At Hotel Sport Ouessant & Spa, guests are treated to stunning sea-view spa facilities that feature sauna rooms, swimming and wellness treatments. The restaurant sums up life on the island with gourmet organic, seasonal produce that's always locally sourced.
From hotels near Mont Saint Michel to sleepy island resorts, book your stay at The Originals Hotels this summer to experience Brittany's hidden treasures. It's a land bursting with historical monuments that span centuries and underscore the uniqueness of Breton culture.
2
HOTELS SELECTED FOR YOU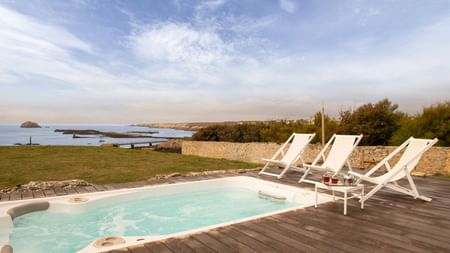 Ouessant , France
Hôtel Sport & Spa, Ile d'Ouessant,
The Originals Collection Lieu dit Goubars, 29242 Ouessant
See on map
Fitness room

Bycicle premises

Pets admitted

Restaurant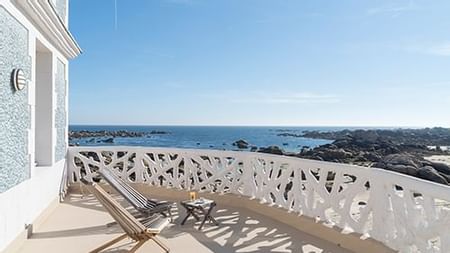 Brignogan-Plage , France
Hotel de la Mer,
The Originals Relais

(Relais du Silence)

Côte des Légendes Plage des Chardons Bleus, 29890 Brignogan-Plage See on map
WiFi

Pets admitted

Restaurant

Bar
Subscribe to our newsletter to receive our latest offers
SUBSCRIBE