How to spend a romantic weekend in Annecy 
How to spend a romantic weekend in Annecy 
The charming town of Annecy is the ideal place to get away from it all. Nestled in the Alps, this picturesque destination offers you plenty of interest at all times of the year. Treat your partner to a romantic getaway in Annecy with The Originals Hotels, and enjoy an intimate French adventure. Book our romantic experience now!
History in Annecy 
As soon as you set foot on the cobbled streets of the Vieille Ville, you'll feel like you've been transported back in time. The historic centre of Annecy has charming old buildings and dreamy canals, making it ideal for a hand-in-hand stroll. You'll soon see why this town is known as the Venice of the Alps. 
For a more in-depth look at local history, spend a morning exploring the Château d'Annecy. This medieval chateau, formerly the home of the Counts of Geneva, is now a regional museum. 
Annecy for foodies 
Visit the Old Town Market on a Saturday morning for fresh local produce. You might want to leave room in your suitcase for some of the delicious Alpine cheeses for which the region is famous. 
The L'Escale restaurant at The Originals City, Hotel Annecy Aéroport emphasises local cuisine. Dine here for some of the best fresh produce at any time of year. 
Shopping in Annecy 
Would a romantic trip to Annecy be complete without a souvenir of your time? Of course not! Once again, you're best exploring the Old Town. This is where you'll find intriguing boutiques, bookshops, antique stores and artisan products to take home with you. 
Adventure in Annecy 
The Fier River is just 10 kilometres from the town. This spectacular river should not be missed during your romantic weekend in Annecy. Hike through the gorges and canyons for some breathtaking views. 
Relaxing in Annecy 
This Alpine region is packed with lakes and tranquil landscapes to relax you. Stay at nearby Hotel Rey Du Mont Sio, Saint-Julien-en-Genevois South, The Originals City and you'll be surrounded by the wonders of nature - just what you need to forget your cares. 
Enjoy your romantic trip to Annecy with The Originals Hotels. From fast-paced adventure to chilling in a French cafe, you're sure to have a delightful weekend.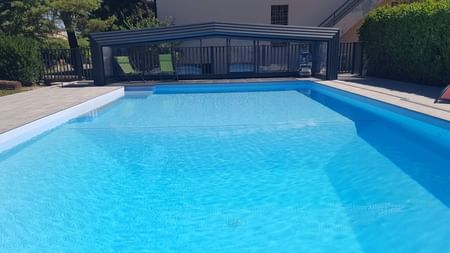 Saint-Blaise , France
The Originals City,
Hotel Rey du Mont Sion, Saint-Julien-en-Genevois South

(Inter-Hotel)

Lieu-dit "Le Mont-Sion" 131, route d'Annecy, 74350 Saint-Blaise See on map
WiFi

Bycicle premises

Free hotel car park

Pets admitted