Le Manoir du Lys: where tradition meets modernity
Le Manoir du Lys: where tradition meets modernity
Holding a Michelin star for 20 years, chef Franck Quinton is a force to be reckoned with in the kitchen. Today he can be found cooking in the restaurant at the Hotel Le Manoir du Lys, The Originals Relais, a haven of peace nestled in the heart of the nature where you can really get away from it all.
We caught up with him to find out what inspires this culinary mastermind.
Food from the forest
Le Manoir du Lys is set in an authentic old hunting lodge in the heart of the Andaine forest. This corner of Normandy has a wild, untamed magic to it. Peaceful, natural, and authentic, it provides the inspiration for Franck Quinton's dishes.
When asked about his favorite ingredient, Franck doesn't hesitate. "I love the mushrooms," he enthuses. "You can cook them in so many forms." He's not exaggerating: his dessert menu even features mushroom mille-feuille and wild mushroom sorbet. This inventive spark of genius is one of the reasons why Franck has become so respected as a chef.
Guests at the hotel have the chance to learn more about forest foods, as there are organised mushroom days. Accompanied by a mushroom expert, you'll head deep into the forest to pick mushrooms, learning about the different species, before enjoying a lunchtime tasting.
Nature comes first
"I'm interested in respecting the cycle of nature," says Franck, and that's clear from his menu. He pays regular visits to his producers, which helps him develop better recipes: "They tell me the story behind the product. It's very important for me to know what they put in, why they make it."
His menu leans heavily on the produce of the area. As well as those marvellous mushrooms, he offers salt meadow lamb and the regional sausage Andouille de Vire. His treatment of meat is particularly impressive. "I come from a family of delicatessen butchers," he explains. This background allows him to show off his techniques in treats like homemade black pudding.


Classics with a twist
Franck loves local produce, but in his kitchen, it's all about innovation. "I would say I serve more traditional foods than traditional dishes," he explains. There's something new and exciting in every dish, whether that's lobster with black sesame or skate with tarama.
The dishes at Manoir du Lys are every bit as magical as the forest that inspires them. Let Franck Quinton take you on a culinary journey through the heart of Normandy, and you'll soon see why this chef is held in such high esteem by Michelin.
The Hotel Le Manoir du Lys, The Originals Relais invites you to relax and experience an authentic gourmet experience as a couple, with your friends or family.
End Of Article
1
HOTELS SELECTED FOR YOU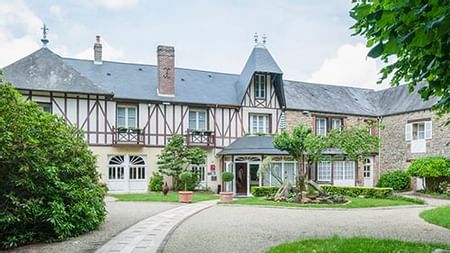 Bagnoles-de-l'Orne , France
Le Manoir du Lys,
The Originals Relais

(Relais du Silence)

Route de Juvigny sous Andaines, 61140 Bagnoles-de-l'Orne See on map
WiFi

Air-conditioned room

Free hotel car park

Pets admitted
Subscribe to our newsletter to receive our latest offers
SUBSCRIBE