Romantic Brittany getaways
Romantic Brittany getaways
What are the most romantic places to stay in Brittany? This gorgeous, windswept corner of France is the ideal spot for a couple's break. Here are The Originals Hotels' recommendations for the best spots to take your partner. Unlock our romantic experience and stay at The Originals Hotels at the best price!
Historic Locronan
One of the most beautiful villages in Brittany, Locronan has cobbled streets, 18th-century houses, and quaint little shops selling artisan goods. Visit the stunning Chapel of Notre-Dame-de-Bonne-Nouvelle, and relax while admiring the exquisite Saint-Eutrope fountain.
La Baule and the coast of love
La Côte d'Amour literally means the coast of love - so it's no surprise that couples flock to La Baule. This town features 9 kilometres of sandy beach, so you're sure to find a quiet corner to enjoy. Take a sailing trip in the harbour, or relax in the shade of the pine trees.
Romantic views from the Abbaye de Beauport
This coastal abbey, just above the cove of Paimpol, offers some of the best views in Brittany. Visit the lush orchards or stroll through the walled garden. From this privileged vantage point, you'll be able to admire marshes, moors, and idyllic pastures.
The windswept beauty of Quiberon
The Côte Sauvage offers a rugged coastline that's ideal for a romantic outdoor getaway in Brittany. Enjoy a long hike and discover secret spots for you and your partner to enjoy. Hidden caves, natural arches, and tiny coves all await you. The rough waters mean that you can't swim here, but with so many interesting sights on land, who cares?
The medieval splendour of Josselin
The castle that dominates Josselin looks like it comes straight from a fairytale - and it's fair to say that this town is truly enchanting! The charming doll museum is quirky and fun, while the annual medieval festival held each July is great for romantic daydreamers.
Romantic hotels around Brittany
The Originals City, Les Résidences d'Armor, Douarnenez is right on the shoreline. Snuggle up with your partner and enjoy listening to the sound of the waves crashing outside. Don't miss the delicious seafood, caught fresh in local waters, in the restaurant.
For modern comfort, stay at The Originals City, Hotel Anaïade, Saint-Nazaire. Five minutes from the sea, this is a warm, cosy hotel with a peaceful view over nearby olive trees.
The Originals City, Hotel du Château, Pontivy is a great spot if you want to stroll, hand-in-hand, down medieval streets. The perfect blend of modern and historic, this hotel offers great romantic accommodation.
End Of Article
2
HOTELS SELECTED FOR YOU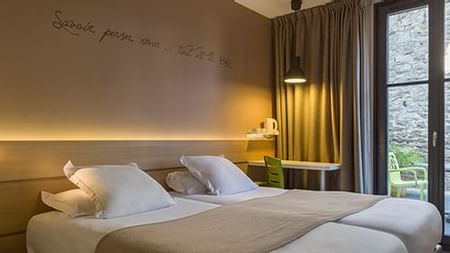 Dinan , France
The Originals Boutique,
Hotel du Château, Dinan

(Inter-Hotel)

6, rue du Château, 22100 Dinan See on map
WiFi

Bycicle premises

Pets admitted

Garage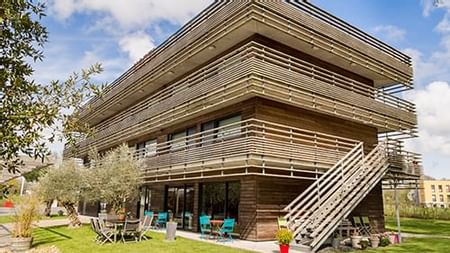 Saint-Nazaire , France
The Originals City,
Hotel Anaïade, Saint-Nazaire

(Inter-Hotel)

45 Route de Fondeline, 44600 Saint-Nazaire See on map
WiFi

Bycicle premises

Air-conditioned room

Free hotel car park
Subscribe to our newsletter to receive our latest offers
SUBSCRIBE