Take an adventure tour in the Pyrenees and discover its hidden gems 
Take an adventure tour in the Pyrenees and discover its hidden gems 
The Pyrenees mountain range creates a natural border between France and Spain and offers unforgettable adventures. From skiing to hiking, matter what time of year you visit, you'll find plenty to keep you busy in the Pyrenees. Book now your adventure excursion in the Pyrenees and get up to 30% discount for your accommodation with our Smooth Rate. 
The Pyrenees for adventurers 
If you love nature, then a holiday in the Pyrenees will be right up your alley. In winter, you'll be kept busy with skiing and other winter sports. However, although the mountains are best-known as a destination to visit when snow is on the ground, summer has its own charms. Try a kayaking excursion through mountain waterways, discovering hidden corners of the Pyrenees that most visitors never learn about. 
 
Some of the best hiking in the Pyrenees can be found on the Spanish side of the mountains. Hotel Iribarnia, The Originals Relais is a rustic, family-run hotel in the village of Lantz, Navarre. Here you'll be able to explore some great trekking routes, surrounded by natural beauty on all sides. You can even follow a bit of the famous Camino de Santiago, which passes through this area heading west. 
The Pyrenees for explorers 
 The town of Lourdes is best known as a Catholic pilgrimage destination. However, it's also packed with great trails and picnic spots in the mountains, forests, and by the lake. The Pyrenees routes around Lourdes are all very well-signposted, with lots of hidden spots to discover. Rent a bike if you like; there's nothing better than going for a long, leisurely bike ride around the lake, admiring the picturesque views on every side. 
 
For something totally unexpected, take a day trip to the eerie Bétharram Caves. Go on foot or hop into a boat to see this haunting place at its best. Twisted rock formations and underground waterways make this otherworldly landscape definitely worth a visit. 
The Pyrenees for foodies 
 Pyrenees hiking routes are great for working up an appetite - and you'll find lots of options to indulge. Enjoy authentic Basque cuisine it includes both delicious, fresh seafood and plenty of cured pork products. 
However, if it's traditional French food you're after, you'll find plenty of that in the Pyrenees, too. Local cheeses, foie gras and beef are all commonly served in the region's eateries. These hearty dishes make the perfect treat after a busy day wandering the mountains. 
The Pyrenees to relax 
 Pyrenees tours can offer more than long hikes. The Hotel Laminak, The Originals Relais has a heated outdoor pool and a sauna, giving you the chance to relax after your adventures. Reflexology sessions and massages are also available, so you'll go home fully rested after your mountain getaway.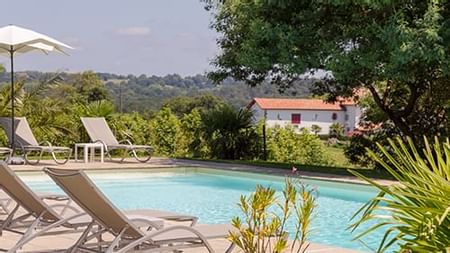 Arbonne , France
Hotel Laminak,
The Originals Relais

(Relais du Silence)

3, route de Saint-Pée, 64210 Arbonne See on map
WiFi

Bycicle premises

Air-conditioned room

Free hotel car park
Subscribe to our newsletter to receive our latest offers
SUBSCRIBE