The most romantic spas in France
The most romantic spas in France
Love is in the air! Whisk your partner away to a romantic getaway at one of the best spas in France. Relax and soak together in the hot water, enjoy massages and other soothing treatments, and explore the charming French countryside. The Originals Hotels will show you where to go for the best thermal baths in France. Unlock our romantic experience and stay at The Originals Hotels at the best price!
The charm of the Loire Valley
Relax in the green surroundings of Château de Beaulieu et Magnolia Spa, The Originals Relais. Close to Tours, this spa hotel is easy to reach, making it ideal for a quick getaway. The hotel is set in an  eighteenth-century mansion and has a spectacular spa with all the modern amenities you could ask for, including a sauna, steam room and sensory swimming pool.
The surrounding 3-hectare park is perfect for a romantic stroll. Enjoy the charm of the authentic manicured French gardens and watch the captivating butterflies as they flutter about. This is the perfect spot for getting away from it all.
An authentic château in the Aveyron
Staying at Château de la Falque, The Originals Relais is a surefire way to create romantic memories. This hotel is built in an eighteenth century convent. From the outside, it looks like a castle - but inside, you'll find modern, charming rooms that are ideal for relaxing.
The spa here will see you and your partner transported into a world of calm. With a relaxing hammam as well as a spa and sauna, this wellness centre has everything you need to chill out. If you want a bit of exercise, go for a dip in the outdoor pool. Otherwise, lie back and let the expert massage team work their magic!
Gourmet delights in Ile-de-France
Hotel Aux Vieux Remparts, The Originals Relais is the perfect blend of history and modernity. Its gourmet restaurant and lounge bar sit in a  twelfth-century cellar, giving you the chance to enjoy dinner for two in a unique fashion. Upstairs, you'll find a generous spa; here you can enjoy massages for two, the perfect treat for a couple in need of relaxation.
The surrounding city of Provins is a UNESCO World Heritage Site with so much to offer curious travellers. Medieval ramparts, a spectacular tower, and historic gates provide the perfect backdrop to a romantic weekend.
End Of Article
3
HOTELS SELECTED FOR YOU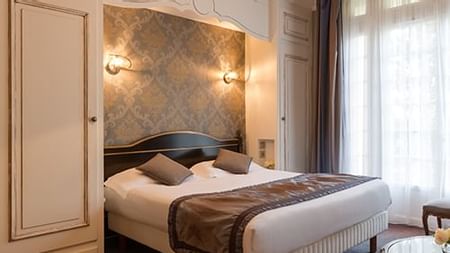 Joué-lès-Tours , France
Château de Beaulieu et Magnolia Spa,
The Originals Relais

(Relais du Silence)

67, rue de Beaulieu D207, 37300 Joué-lès-Tours See on map
WiFi

Bycicle premises

Air-conditioned room

Free hotel car park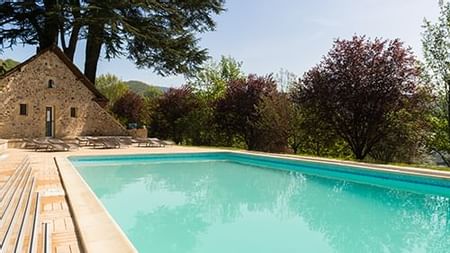 Saint-Geniez-d'Olt , France
Château de la Falque,
The Originals Relais

(Relais du Silence)

Route de Prades, 12130 Saint-Geniez-d'Olt See on map
WiFi

Bycicle premises

Air-conditioned room

Free hotel car park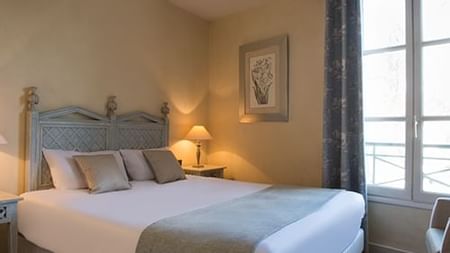 Provins , France
Hotel Aux Vieux Remparts,
The Originals Relais

(Relais du Silence)

3 Rue Couverte, 77160 Provins See on map
WiFi

Air-conditioned room

Free hotel car park

Pets admitted