The Ultimate Cycling Holidays in Loire Valley 
The Ultimate Cycling Holidays in Loire Valley 
If you love adventure, then Loire Valley cycling holidays are for you. The full, epic route stretches a massive 800km across France, following the banks of the Loire River. If you can't manage the full distance, don't worry - let The Originals Hotels guide you through some of the top cycling routes in Loire Valley. Book now your culture and nature experience and enjoy! 
Château de Chambord – Rastplatz Loop from Tour-en-Sologne 
This intermediate route covers 38km and will take you just under 2 and a half hours. The stunning Château de Chambord is instantly recognisable as one of the most famous buildings in France. This is the largest of the Loire Valley's many castles, and is open to the public to explore. 
Stay at the nearby The Originals City, Hotel Ikar, Blois South to make the most of the trip. A generous breakfast buffet will set you up for your Loire Valley cycling adventure, while traditional French cuisine, made with the finest ingredients, awaits you in the evening. 
Vue on Chinon Loop from Thizay 
If you're a newcomer to two wheels, or you're feeling out of practice, this is a good place to start. At just under 20 km, this easy bike ride will take you a little over an hour, and is great for beginners. The charming town of Chinon, with its  12th-century royal castle, is a real highlight. 
Pont de Langeais – Château de Villandry Loop from Rivarennes to Quinçay 
At almost 45km, this is an intermediate route that will take you about 2 and a half hours to complete. You'll probably want to stop and admire the magnificent Pont de Langeais, a stone suspension bridge. 
The highlight of the trip is the Château de Villandry, with its famous gardens. You'll find a water garden, vegetable patches, and ornamental flower gardens - all immaculately kept, and separated by neat hedges. 
Château de Villandry – Pont de Langeais Loop from Villandry 
This 40km route offers another perspective on the Château de Villandry. You'll also see the charming, unique architecture of the Château de L'Islette. It's ideal for a romantic bike ride for two. 
Stay at the family-run The Originals City, Hotel Le Cheval Rouge, Tours West, and tuck into some of the finest local cuisine. Beef fillet and homemade foie gras are highlights of the menu. Don't skimp on dessert - after a busy day of biking in Loire Valley, you've earned it! 
Amboise – Château de Amboise Loop from Tours 
Allow yourself up to 4 hours to complete this 60km route. Nature lovers will thrill at the glorious riverside views - but if spectacular architecture is more your cup of tea, there's plenty of that, too. 
Highlights include the stunning Château Royal d'Amboise and the Cathédrale Saint-Gatien. You'll find the second building in the medieval centre of Tours, an ideal place to stop for lunch while admiring the old timbered buildings. 
Chateau Beaugency – Château de Beaugency Loop from Beaugency 
The longest of these routes at almost 66km, this is a great way to see some of the most beautiful parts of Loire Valley. The ultra-modern Pont de l'Europe is an unusual sight in this historic part of France. It provides an interesting contrast with some of the older buildings you'll pass, like the Cathédrale Sainte-Croix d'Orléans or the well-preserved Joan of Arc's house. 
The Château de Perreux, The Originals Collection makes a great place to stay nearby. After a day of admiring the castles in Loire Valley, now here's your chance to actually sleep in one! Enjoy feeling like a French aristocrat for a couple of nights. 
A place to rent your bike 
Cycling holidays in Loire Valley are a popular choice, so the Ouibike network can be found throughout the area. This service allows you to have your bike delivered right to your hotel door. It'll be waiting for you when you arrive, for ultimate convenience. 
A holiday to remember 
Strap on your helmet and get ready for an exciting few days in Loire Valley. You'll love the chance to hop from one castle to the next, in total control of your route. Whether you're a keen cyclist or an enthusiastic beginner, The Originals Hotels recommends Loire Valley biking for a great holiday! 
End Of Article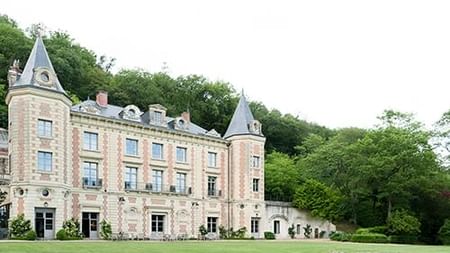 Nazelles-Negron , France
Château de Perreux,
The Originals Collection

(Relais du Silence)

36, route de Pocé, 37530 Nazelles-Negron See on map
WiFi

Bycicle premises

Air-conditioned room

Free hotel car park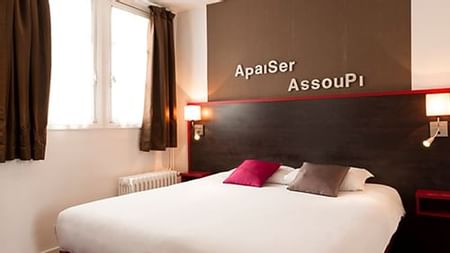 Villandry , France
The Originals City,
Hotel Le Cheval Rouge, Tours West

(Inter-Hotel)

9, rue Principale, 37510 Villandry See on map
WiFi

Bycicle premises

Free hotel car park

Pets admitted
Subscribe to our newsletter to receive our latest offers
SUBSCRIBE