Book hotel accommodation for ski and snowboarding holidays in the Pyrenees
Book hotel accommodation for ski and snowboarding holidays in the Pyrenees
The mountains of the Pyrenees offer some of the most varied and exciting slopes in Europe. Whether you're into skiing, snowboarding or just the apres-ski, Pyrenean resorts have lots to offer. Read on for our recommendations for ski holidays in the Pyrenees.
Unlock now our smooth rate offer and enjoy a memorable stay at the Originals Hotels!
Exciting slopes and sunny prospects
While many tourists head for the Alps for their ski holidays, the Pyrenees have much to offer, too. In fact, many discerning winter sports enthusiasts head here for the unique conditions. The specific climatic conditions of the Pyrenees mean that snow sticks to steeper slopes. That means there are some very exciting opportunities for skiing and snowboarding in the Pyrenees.
However, you don't have to be a risk-taker to ski in the Pyrenees. There are many gentler slopes, too. What's more, the proximity to the Mediterranean means these slopes tend to be sunnier and more comfortable for learners.

Other winter activities in the Pyrenees
As well as skiing and snowboarding, the Pyrenees offer you some other opportunities. Hiking in the foothills is a great way to explore the area and take in the views. Or you might enjoy rafting in La Haute-Vallée de l'Aude. The spa towns of the region, like Rennes-les-Bains and Ax-les-Thermes, feature natural warm water springs, where you can bathe in comfort.
Pyrenean history and culture is also quite an attraction. Try visiting the Cathar Castles in the foothills, for remarkable insight into the history of the area. As for gastronomes, local cuisine includes such delicacies as tartiflette with duck, foie gras, cassoulet, charcuterie and fresh trout from the sparkling waters of the region.
Where to stay
Naturally, you'll want an excellent Pyrenees ski hotel, and we have some top recommendations. The Originals Access, Hotel Foix makes a great base for your winter adventures. With comfortable rooms, superb hospitality and a first-class restaurant, you'll surely feel at home. Besides skiing, it's a great location due to the medieval Foix Castle and natural wonders like the Labouiche underground river.
The Originals City, Hotel Cartier, Quillan is another fantastic option for Pyrenees ski accommodation. Set in the heart of Cathar country, the hotel gives a warm and rustic family welcome. Of course, you'll also benefit from excellent modern services.
With mountains as beautiful as the Pyrenees waiting for you, a great winter holiday is assured. So why not book today?
2
HOTELS SELECTED FOR YOU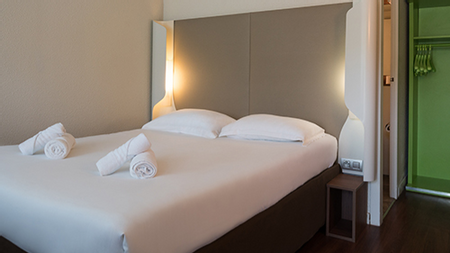 Foix , France
The Originals Access,
Hotel Foix

(P'tit Dej-Hotel)

Route Nationale 20 Lieu Dit Le Couloumié, 9000 Foix See on map
WiFi

24h access by automatic teller

Air-conditioned room

Free hotel car park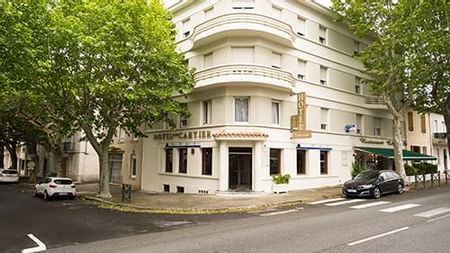 Quillan , France
The Originals City,
Hotel Cartier, Quillan

(Inter-Hotel)

31 Boulevard Charles de Gaulle, 11500 Quillan See on map
WiFi

Bycicle premises

Air-conditioned room

Pets admitted
Subscribe to our newsletter to receive our latest offers
SUBSCRIBE