Explore the Auvergne Volcanoes Regional Nature Park
Explore the Auvergne Volcanoes Regional Nature Park
France has its very own volcanic landscape! Visit the Auvergne Volcanoes Regional Nature Park with The Originals Hotels for a holiday that will show you a totally different side of the country. Book now your getaway and get up to 30% discount on your accommodation with our Smooth Rate!
About the Auvergne Volcanoes
The Auvergne region in south-central France boasts a landscape that's completely unlike the rest of the country. The volcanoes here are known as the Chaîne des Puys. Their unusual, rounded form has made this area a hotspot for adventurers. In total, there are over 80 volcanoes in the area, making it a hiker's paradise.
Excursions around the Auvergne Volcanoes
The most popular hike in the area is Le Puy Mary in the south of the park. From the peak, you'll enjoy beautiful views across the mountains.
You may recognise Puy du Pariou, as it's often been used in adverts. Its curved basin shape and lush green vegetation make it a fascinating backdrop. Adventurers should take the hiking paths that lead into the crater itself.
If you don't fancy hiking, take the electric cog train to the top of the Puy de Dôme, the highest volcano around. You'll get all the great views without the exertion!
Activities around the Auvergne Volcanoes
If you love adventure, then you've come to the right place. River rafting, kayaking and canoeing are all popular activities in the park in summer. Don't want to get wet? You can also go mountain biking or even horse riding!
The region has its very own amusement park, Vulcania. Ideal for the whole family, this fun educational park has thrill rides, 3D movies, and plenty to keep you busy.
The best hotels near the Auvergne Volcanoes
Travellers on a budget should try The Originals Access, Hotel Clermont-Ferrand Nord in nearby Châteaugay. This modern, refurbished hotel is a cosy place to sleep and offers a great breakfast full of local produce.
Origines Par Adrien Descouls, The Originals Relais is ideal if you want some really special accommodation. This sleek, modern hotel has been built adjoining old castle ruins to create a uniquely thrilling blend of old and new. With a gourmet restaurant and spectacular views, this is a hotel you'll never forget.
You'll always find a warm welcome at The Originals City, Hotel Clermont-Ferrand South Aubière. With a convenient location five minutes from the centre of Clermont-Ferrand, this is the perfect spot if you want to see the city and the volcanoes.

End Of Article
2
HOTELS SELECTED FOR YOU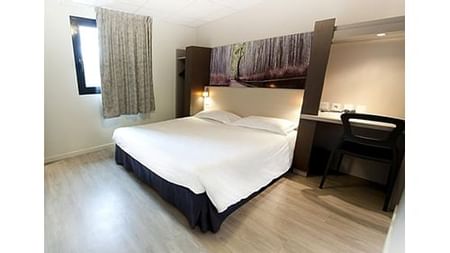 Aubière , France
The Originals City,
Hotel Clermont-Ferrand South Aubière

(P'tit Dej-Hotel)

8, avenue Lavoisier, 63170 Aubière See on map
WiFi

24h access by automatic teller

Air-conditioned room

Free hotel car park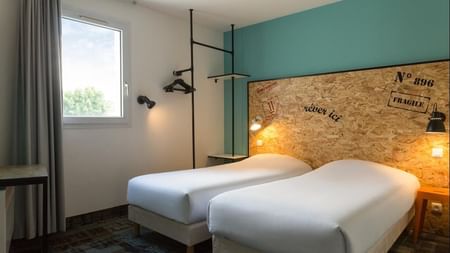 Châteaugay , France
The Originals Access,
Hotel Clermont-Ferrand Nord

(P'tit Dej-Hotel)

150, route de Pompignat, 63119 Châteaugay See on map
WiFi

24h access by automatic teller

Free hotel car park

Pets admitted
Subscribe to our newsletter to receive our latest offers
SUBSCRIBE