Explore the south of Belgium on your family holiday
Explore the south of Belgium on your family holiday
The Easter holiday is a thrilling time to explore Southern Belgium with your family. Parades and cultural celebrations line historic towns and cities, and the landscape comes to life with fragrant wildflowers. Exciting castles provide endless day trips and things to do in Belgium with kids.
Unlock our special offers and stay at The Originals Hotels at the best price!
Atmospheric castles and ruins
The castles in Wallonia, Belgium's historic southern region, are magical portals into the country's past. Make history fun for your family with Moulin de Daverdisse, The Originals Relais. This honey-hued hotel in Wallonia features a family-friendly swimming pool and leafy grounds to explore. It's the perfect base from which to discover the 11th-century Walzin Castle overlooking the tranquil Lesse River. Right nearby, the fairytale-like Château de Vêves in Celles is one of the finest medieval castles in Belgium with an unmissable family treasure hunt. Families can then uncover the legend of Orval within the scenic Merovingian ruins of Orval Abbey.
Breath-taking natural scenery
Spring is a fine time for exploring the Ardennes, where walking paths and wildlife parks abound in lush, forested settings. Some of the best places to visit in the Ardennes, Belgium, with young ones include the legendary Rock Bayard of Dinant. Enjoy kayaking trips on your doorstep with Hostellerie Sainte-Cécile, The Originals Relais, nestled near the banks of the Semois River. This charming and traditional stone-built hotel boasts eclectic rooms and delicious breakfasts to charm the family. For little ones with a penchant for the mysterious, the Lesse River caves provide atmospheric settings when visiting the Ardennes Forest.
Captivating history
Belgium's biggest draw is its history and Wallonia's museums are among the best things to do in Belgium with family. Stay in the heart of history with Hostellerie du Peiffeschof, The Originals Relais, a pretty hotel in the cosy provincial capital of Arlon, complete with a pampering whirlpool! Thrilling cycle trails lead from its doorstep through forests into the historic centre, where you can visit the Arlon Cycling Museum. Catch the entertaining Arlon Carnival before taking in historic artworks at the child-friendly Museum Gaspar. The city's Archaeological Museum provides an intriguing snapshot of Gallo-Roman artefacts to inspire any budding historians.
From riverfront relaxation to precarious clifftop forts, South Belgium is a dreamy family-friendly spring getaway. Book a springtime break in the heart of Southern Belgium with our well-placed Originals Hotels.
2
HOTELS SELECTED FOR YOU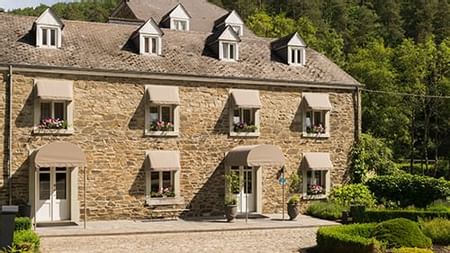 Daverdisse , Belgium
Moulin de Daverdisse,
The Originals Relais

(Relais du Silence)

Rue de la Lesse, 61, 6929 Daverdisse See on map
WiFi

Bycicle premises

Free hotel car park

Restaurant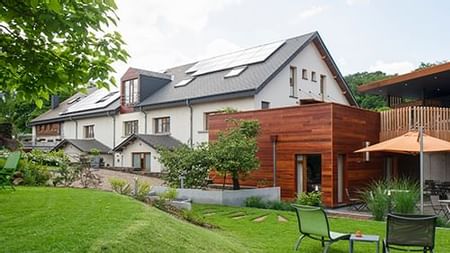 Arlon , Belgium
Hostellerie du Peiffeschof,
The Originals Relais

(Relais du Silence)

Chemin du Peiffeschoff, 111, 6700 Arlon See on map
WiFi

Bycicle premises

Free hotel car park

Restaurant
Subscribe to our newsletter to receive our latest offers
SUBSCRIBE