Exploring the famous Mont-Saint-Michel
Exploring the famous Mont-Saint-Michel
A trip to Mont-Saint-Michel can make you feel like you've just stepped into a Harry Potter wonderland! This tiny island has inspired pilgrimages for hundreds of years. Now it's your turn to follow in the footsteps of these ancient pilgrims, as you let The Originals Hotels guide you through this gorgeous corner of Normandy. Unlock our Smooth Rate and stay at The Originals Hotels at the best price!
Visiting Mont-Saint-Michel
The first question when you visit Mont-Saint-Michel is simple: how will you get to the island itself? Ancient pilgrims went on foot. Crossing the seven kilometres of water will take you two hours. If you're ready to roll up your trouser legs and get going, be sure to find a guide who can lead you safely through the currents.
Alternatively, you can hire a kayak to cross the water to the island, or even try getting across on horseback! Not up for an adventure? Don't worry - the island is accessible by car, too.
Discovering Mont-Saint-Michel through a tour
While many visitors are happy just to wander the narrow streets and soak up the atmosphere, a guided walking tour will let you really get to know the island. In particular, you'll enjoy the chance to explore the interior of the abbey. An experienced guide can tell you all about the underground crypts, giving you a deeper insight into the isle's history. Anyone with an interest in history will benefit from guided Mont-Saint-Michel tours.
For a completely different perspective, you can try a balloon tour over the island. A hot air balloon will give you a bird's eye view of Mont-Saint-Michel, and is ideal for a romantic visit!
Other things to see around Mont-Saint-Michel
Normandy is one of the most intriguing parts of France, with its own distinctive character and history. Saint-Malo is famous for its stunning beaches; it also has a glorious cathedral and fortified castle, both well worth exploring.
Families will love a trip to Cherbourg, home to the largest aquarium in Europe. There's also an unexpected attraction in the form of a decommissioned nuclear submarine, open for guided tours! Cherbourg is a great spot for anyone who wants to try water sports, such as kayaking or parasailing.
Where to stay in Normandy
Just 10km from the island, Manoir de la Roche Torin, The Originals Relais offers great accommodation near Mont-Saint-Michel. This warm and welcoming 3-star hotel offers traditional regional cuisine. Try the oysters and lobster that Normandy is famous for, or indulge in the restaurant's speciality, delicate grilled salt meadow lamb.
The Originals Boutique, Hotel Les Quatre Salines, Mont-Saint-Michel South is another great hotel near Mont-Saint-Michel. The rooms here are modern and comfortable, and the restaurant serves dishes made from the finest local ingredients.
2
HOTELS SELECTED FOR YOU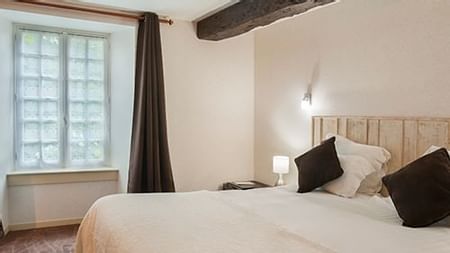 Courtils , France
Manoir de la Roche Torin,
The Originals Relais

(Relais du Silence)

34 Route de Roche Torin, 50220 Courtils See on map
WiFi

Bycicle premises

Free hotel car park

Pets admitted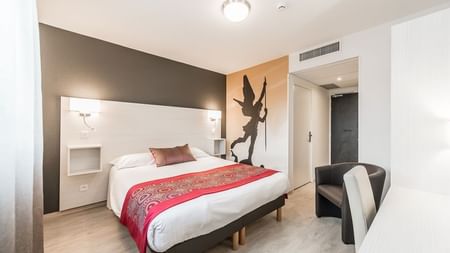 Roz-sur-Couesnon , France
The Originals Boutique,
Hotel Les Quatre Salines, Mont Saint-Michel South

(Inter-Hotel)

3, rue des 4 salines, 35610 Roz-sur-Couesnon See on map
WiFi

Bycicle premises

Free hotel car park

Pets admitted
Subscribe to our newsletter to receive our latest offers
SUBSCRIBE