Five foods you have to try in Brittany
Five foods you have to try in Brittany
Planning a trip to Brittany? Then get ready to loosen your belt, because brittany cuisine is quite simply spectacular! Here's The Originals Hotels' list - just a few of the culinary highlights you can't miss on your holiday. Unlock our gourmet experience  and stay at The Originals Hotels at the best price!
Galettes
The galette is, without a doubt, the most famous item in Breton cuisine. These buckwheat crêpes can be eaten in savoury or sweet dishes with thousands of different fillings. They even  make an appearance in the local street food: galette saucisse is a sophisticated take on the hot dog. Be sure to enjoy a glass of cider as an accompaniment!
Poulet au cidre
Bretons love their cider - not just drinking it, but also cooking with it. This hearty dish features chicken, onions and apples in a rich, creamy cider sauce. It's not one for dieters, but it's sure to leave you licking the plate.
Cotriade
Britanny cuisine is known for its excellent seafood, and it's almost impossible to choose just one fish dish. Cotriade, a rich fish stew, is an absolute classic. It was traditionally eaten by fishermen and their families. The best cotriade will come packed with many types of fish, so it's full of different flavours.
Far Breton
Fancy some dessert? This prune and custard flan cake is a much-loved local sweet treat. It's a bit like a clafoutis, and is the perfect way to end a Breton meal.
Kouign-amann
The French love their pastries, and this is the local version! This pastry is packed with sugar and the famous Breton salted butter and has a rich flavour of salted caramel. Kouign-amann is circular and can be bought in different sizes. Get a small one to yourself, or a larger one to share.
Where to stay and dine in Brittany
Let The Originals Hotels take care of you: many of our Breton hotels have fine restaurants which serve the best of local cuisine. Ar Men Du, the Originals Relais, can be found right on the coast in Névez. Its restaurant has been awarded a Michelin star, and is known for its sustainable gastronomy and exquisite local produce.
You'll find another Michelin-starred restaurant at Maison Tirel Guerin, The Originals Collection, a 4-star hotel close to the sights of Mont Saint-Michel, Saint-Malo and Cancale. The gourmet experience offered by La Gouesniere focuses on Breton seafood, and should not be missed.
With a menu that changes with the seasons, La Germinal, The Originals Relais always has something different to try. The owner of this charming hotel in Cesson Sevigné is a trained sommelier, making this place heaven for wine lovers!
End Of Article
2
HOTELS SELECTED FOR YOU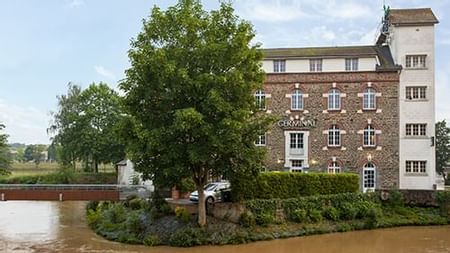 Cesson-Sévigné , France
Le Germinal,
The Originals Relais

(Relais du Silence)

9, cours de la Vilaine, 35510 Cesson-Sévigné See on map
WiFi

Pets admitted

Restaurant

Lift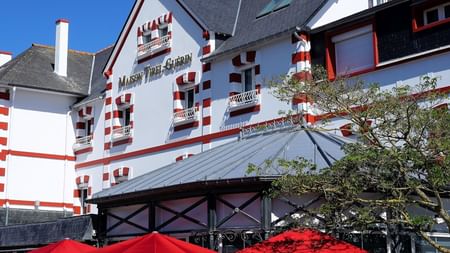 Saint-Méloir-des-Ondes , France
Maison Tirel Guerin,
The Originals Collection Limonay, 35350 Saint-Méloir-des-Ondes
See on map
WiFi

Bycicle premises

Free hotel car park

Pets admitted
Subscribe to our newsletter to receive our latest offers
SUBSCRIBE