Have a cultural break: visit the Louvre Museum
Have a cultural break: visit the Louvre Museum
In a city famous for its museums and galleries, one name always stands out above the rest. The Louvre is is the most visited museum in the world. Don't be overwhelmed by its enormous collections - let The Originals Hotels show you how to make the most of your trip. Unlock our Smooth Rate and stay at The Originals Hotels at the best price!
Getting to the Louvre
The large glass pyramid makes the site instantly recognisable - and if you take the metro to visit the Louvre Museum, you'll get off directly underneath this famous structure. The stop to look for is Palais Royal/Musée du Louvre, on lines 1 and 7.
When you arrive, check which entrance to go to. If you have already booked your ticket, go to the Passage Richeliu, but if you are buying it on the day, you'll need to enter through the Pyramid box office. Look out - some people get free entry! These include anyone under 18, EEA residents between 18 and 25, job seekers, and disabled visitors and their carers.
Getting around the museum
The art in the Louvre Museum is divided between eight departments. If you want to know what to visit in the Louvre with limited time, you're best off following one of the museum's visitor trails. The Masterpieces trail showcases some of the best paintings in the Louvre, including the Mona Lisa, works by Arcimboldo and Raphael, and the emblematic French piece, Liberty Leading the People.
If you'd rather find the best art in the Louvre for yourself, you can download an audio guide app onto your phone. Feel free to wander through the museum; you'll see celebrated pieces like the Venus de Milo or the Great Sphinx, but there are also lesser-known works around each corner that will surprise and delight you.
Finding a hotel near the Louvre Museum
The Originals Boutique, Hotel du Vieux Saule, Paris Le Marais is a charming, modern hotel in the heart of the city. If you're tired after hours traipsing around the museum, this hotel has a relaxation suite complete with sauna and balneotherapy tub - ideal for chilling out and recharging your batteries for your next Parisian adventure!
Another excellent hotel near the Louvre is The Originals City, Hotel Lecourbe, Paris Eiffel Tower. This cosy hotel has a generous breakfast buffet and excellent public transport links. It makes a wonderful base to explore the City of Lights.
End Of Article
2
HOTELS SELECTED FOR YOU
Paris , France
The Originals Boutique,
Hotel du Vieux Saule, Paris le Marais

(Qualys-Hotel)

6, rue de Picardie, 75003 Paris See on map
WiFi

24h access by automatic teller

Air-conditioned room

Pets admitted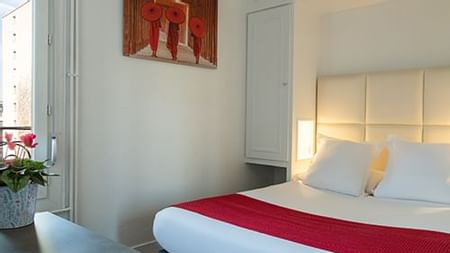 Paris , France
The Originals City,
Hotel Lecourbe, Paris Eiffel Tower

(Inter-Hotel)

28, rue Lecourbe, 75015 Paris See on map
WiFi

Pets admitted

Lift

Night porter
Subscribe to our newsletter to receive our latest offers
SUBSCRIBE