Plan a business trip in South of France
Plan a business trip in South of France
Looking for a conference hotel in the South of France? The Originals Hotels offers a selection of fine options for accommodation, conferences, seminars, spas and more. At these luxury hotels, you'll find that a business trip can become something very special.
Discover our business offer and start planning your next event in France.
Meetings in style in Montpellier
Hotel Disini Montpellier Est, The Originals Relais is a short distance from the glamorous city of Montpellier. Its large reception room can hold up to 200 people or, for more intimate meetings, a smaller meeting room has space for up to 40. It has plenty to keep you captivated throughout your trip, from its high-end restaurant with the latest fusion cuisine to its generous wellness space, set in the unforgettable surroundings of an oak forest. From the excitement of the city to the tranquility of nature, this spa hotel in Montpellier has something for everyone.
Seminars in the heart of the enchanting French countryside
The lush, green countryside in this part of France has inspired generations - and now it's your turn! La Villa Vicha, The Originals Relais is an ideal conference hotel in the South of France. Between Nîmes and Montpellier, it is surrounded by an idyllic rural landscape - perfect for escaping the city to spark creativity. Its three meeting rooms are bright and airy, with natural light and charming artwork. A day spa, with a sauna, steam room and Jacuzzi, will help you unwind, and those who want to let off some steam after the meeting will be able to go for an energizing dip in the pool or a game of tennis.
Conferences in nature: a trip to Provence
Surrounded by gorgeous greenery, Villa Borghese, The Originals Relais is perfect for memorable conferences and seminars. It has three seminar rooms and three sub-committee rooms; all have natural sunlight, modern equipment and comfortable seating, with the largest holding up to 100 people. This hotel is ideal for impressive business meetings. Its gourmet restaurant celebrates the flavours of Provence in new, exciting dishes with a modern twist, and its spa offers pampering massages, treatments and relaxation sessions. Many of these treatments use local ingredients, such as Provence's own lavender or sweet almonds.
Looking for hotel meeting rooms in France? Check out The Originals Hotels' range of business hotels and spas in Monaco and France and enjoy a taste of luxury.

3
HOTELS SELECTED FOR YOU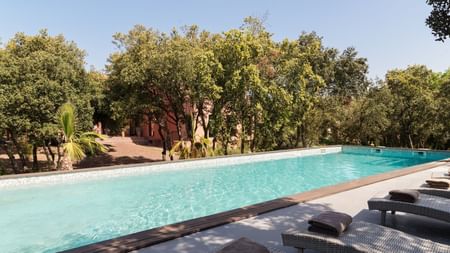 Castries , France
Hotel Disini Montpellier Est,
The Originals Relais

(Relais du Silence)

1, rue des Carrières, 34160 Castries See on map
WiFi

Fitness room

Free hotel car park

Pets admitted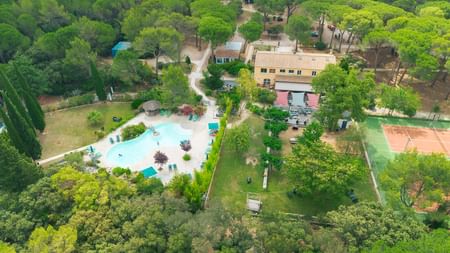 Aubais , France
La Villa Vicha,
The Originals Relais 810 Chemin de Cardione, 30250 Aubais
See on map
WiFi

Air-conditioned room

Free hotel car park

Restaurant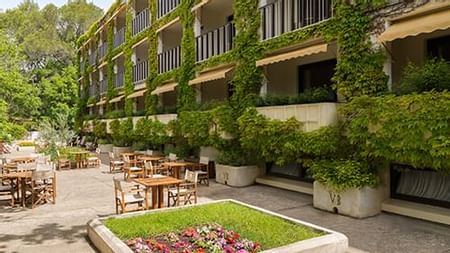 Gréoux-les-Bains , France
Villa Borghese,
The Originals Relais

(Relais du Silence)

Avenue des Thermes Route de Riez, 4800 Gréoux-les-Bains See on map
WiFi

Free hotel car park

Pets admitted

Restaurant
Subscribe to our newsletter to receive our latest offers
SUBSCRIBE